Lt. Gov. Fairfax files $400M defamation suit against CBS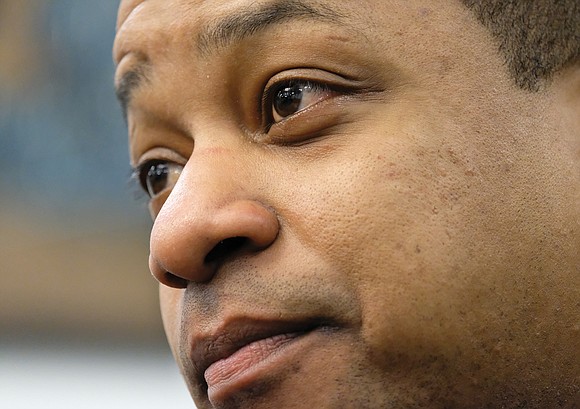 Lt. Gov. Justin E. Fairfax is suing CBS for $400 million, claiming the company defamed him when it broadcast interviews with two women he said have falsely accused him of sexual assault.
The lawsuit, filed Sept. 12 in the U.S. District Court in Alexandria, alleges nobody at the company investigated or adequately fact-checked allegations made by Meredith Watson or Vanessa Tyson and broadcast the interviews to repair its own public image and boost its bottom line.
The suit says CBS' actions have damaged Lt. Gov. Fairfax's reputation and "once promising career and political prospects."
"Fairfax brings this action to restore his reputation and clear his name, ensure the truth prevails, stop the weaponization of false allegations of sexual assault against him, and vindicate his rights under civil law," the lawsuit says.
Network officials responded in an emailed statement that CBS stands by its reporting and will "vigorously" challenge the lawsuit.
Meanwhile, a Republican legislator has renewed his call for a hearing before the Virginia General Assembly to include testimony from the two accusers.
Sen. Mark D. Obenshain of Rockingham County, chairman of the Senate Courts of Justice Committee, accused Democrats running for re-election in November of blocking the hearings and putting "their political ambitions ahead of the rights of these women and the interests of justice."
While Republicans hold the majority in the state Senate and House of Delegates, Democrats refused earlier this year to hold such a hearing, questioning whether the General Assembly was the best venue to hear criminal allegations.
The 40-year-old lieutenant governor, previously considered a rising star of the state Democratic Party, faced calls to step down from his part-time government job when the allegations by Dr. Tyson and Ms. Watson surfaced in February. No criminal charges have been filed against Lt. Gov. Fairfax to date. He resigned during the summer from the law firm in Northern Virginia where he had worked, but has remained in his elected position.
Dr. Tyson said Lt. Gov. Fairfax forced her to perform oral sex in 2004 during the Democratic National Convention in Boston while he was a student at Columbia Law School. Ms. Watson says Lt. Gov. Fairfax raped her in 2000 when both were students at Duke University.
Lt. Gov. Fairfax has adamantly denied their allegations, saying the encounters were consensual and that the women's accusations earlier this year were politically motivated.
Dr. Tyson's and Ms. Watson's allegations came to light at a moment when Lt. Gov. Fairfax seemed poised to ascend to the governorship. Gov. Ralph S. Northam was facing a crisis after a racist photo showing a person in blackface and another in Ku Klux Klan garb was found on his 1984 medical school yearbook page.
The lawsuit states CBS amplified the women's "intentionally fabricated, false and politically-motivated statements" without thoroughly investigating. It also alleges that a CBS attorney who was a Duke classmate of Ms. Watson and Lt. Gov. Fairfax "had information all along that Fairfax did not rape or sexually assault Watson."
An attorney for Ms. Watson said in a statement, "We look forward to everyone testifying under oath, now that this matter is in court."