COVID-19 changes funeral traditions
Brian Palmer | 4/2/2020, 6 p.m. | Updated on 4/28/2020, 10:04 a.m.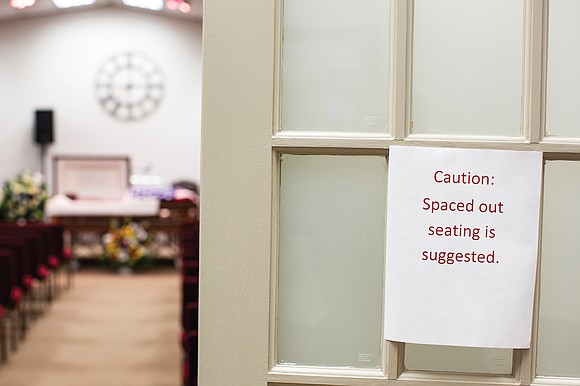 COVID-19 has taken thousands of lives and upended business as usual around the world during the past few months. Just as the pandemic is changing daily life for millions, it is rapidly changing how the living lay their loved ones to rest.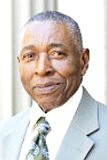 In Henrico County, Wilson & Associates' Funeral Service on Nine Mile Road held a walk-through viewing this week for the late Robert W. Peay, an emeritus faculty member at Virginia Commonwealth University's School of Social Work. Visitors came in ones and twos on Monday afternoon. As one man exited, another entered. He was a classmate of Mr. Peay's, he said.
Daryl V. Fraser, a colleague of Mr. Peay, sat in the front row across from the casket inside the chapel for a few minutes.
"He was a good man, a family man. A father figure. He had a profound impact on who I am as a social worker," said Mr. Fraser, who was alone until an older couple came in. The three remained at least 6 feet apart during the viewing as coronavirus protocol demands.
"We have what's called a viewing and you have what's called a visitation," Brian V. Wilson, owner of the funeral home, explained.
A standard viewing, he said, is "coming in and going out." People pay their respects at the casket, linger for a few moments and then leave.
At a visitation, family and friends sit, socialize and celebrate the life of the person who has passed away.
But Gov. Ralph S. Northam's Executive Order 53 has put an end to large visitations — and to funerals as well. The directive prohibits gatherings of 10 or more people.
"The governor's order does not reference or create an exception for funeral gatherings," the Virginia Department of Health Professions, which regulates embalmers and funeral homes, noted in an electronic posting for funeral directors.
Mr. Wilson now limits the number of people allowed in the funeral home's viewing room to four at a time. He also has set a 10-minute time limit.
"A lot of our families understand. They've taken it pretty good," Mr. Wilson said. But for people who are "already grieving, this adds another layer of stress."
Other area funeral homes also are following the governor's order.
"The traditional funeral has changed quite a bit," said Richard A. Lambert Sr., owner and president of Scott's Funeral Home in North Side. "It's a frightening situation and we have to treat this a little different."
For families, "it's hard to adjust to the fact that they have to have a limited number of people at the funeral and they have to have a closed casket, and they can't even go to the gravesite," Mr. Lambert said.
Many cemeteries, he noted, are bound by the governor's order as well and are limiting the number of people allowed at burials. As a result, more families are opting for cremation, he said.
"It's tough, and I really feel for the families," said Joseph Jenkins III, vice president and manager of Joseph Jenkins Jr. Funeral Home in the West End. "Some people are choosing to have a memorial service at a later date."