COVID-19 changes funeral traditions
Brian Palmer | 4/2/2020, 6 p.m. | Updated on 4/28/2020, 10:04 a.m.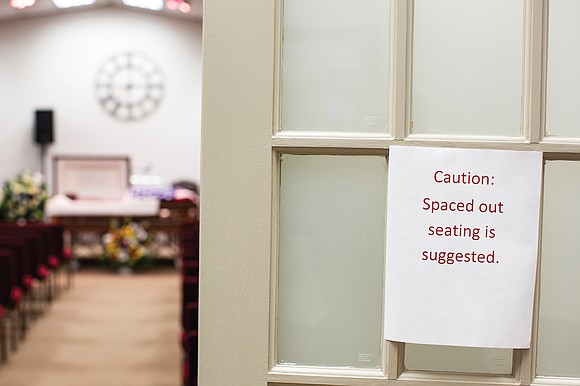 COVID-19 also has huge implications for how the professionals who actually handle remains work. The Centers for Disease Control and Prevention issued guidelines for handling bodies of those who die from the virus.
"A funeral or visitation service can be held for a person who has died of COVID-19.
Funeral home workers should follow their routine infection prevention and control precautions when handling a decedent who died of COVID-19," the guidance stated.
The CDC also offers some science-based reassurance to death care professionals and people attending funerals.
"There is currently no known risk associated with being in the same room at a funeral or visitation service with the body of someone who died of COVID-19."
Still, according to the CDC guideline, "people should consider not touching the body of someone who has died of COVID-19. Older people and people of all ages with severe underlying health conditions are at higher risk of developing serious COVID-19 illness."
Handling the bodies of people with infectious diseases is nothing new for funeral directors. Disease transmission and control and sterilization are mandatory subjects in mortuary science school, which funeral service providers must attend in order to obtain a license in the Commonwealth. In fact, it's against the Virginia law for a funeral director to refuse to accept the body of person who has died of an infectious disease.
"Standard protocol is to treat every case as if they have something, an infectious disease,"
Mr. Wilson said. But funeral home workers who handle the deceased in the time of COVID- 19 take additional measures, he said, such as wearing two pairs of gloves and double gowns and shoe covers.
During this crisis, more funeral business has necessarily — and swiftly — moved online.
Chavelá D. Painter, a Newport News funeral director and president of the Virginia Morticians Association, an organization of African-American death care professionals, said face-to-face meetings with VMA members are now virtual.
"We have been connecting on the regular with each other, on conference calls or via Zoom, in order to stay connected and to discuss what is going on as far as COVID-19."
And if local funeral directors weren't live-streaming services already, they are now.
The African-American funeral is social, said Mr. Jenkins, and so, too, is the African-American funeral home. He laments having to cancel the post-funeral repast, a staple of a traditional black funeral. But he also misses the affectionate physical contact that's customary.
"The first thing we do when we meet a family — whether they're a family we've served or a new family — we shake hands, we hug," Mr. Jenkins said.
But not anymore, he added.
"That's just one of the millions of reasons why I'm praying for this to be over."