Sweeping changes signed into law by Gov. Northam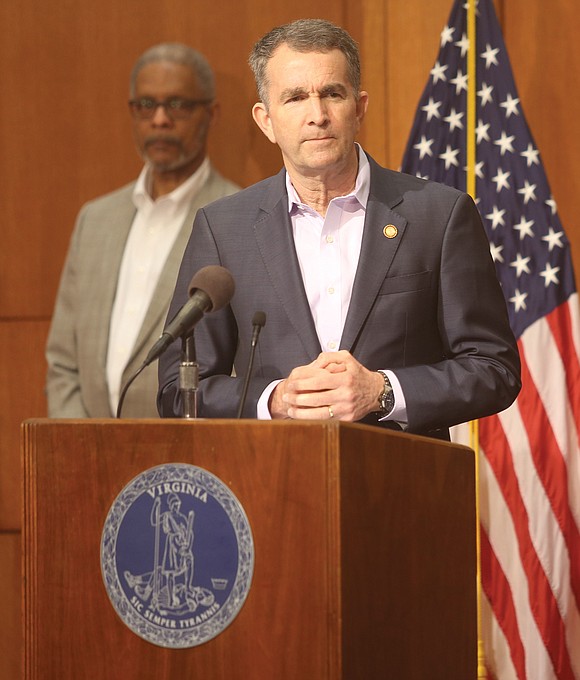 Democratic Gov. Ralph S. Northam has signed sweeping changes into state law that will allow people to vote up to 45 days before Election Day, remove jail time for possession of marijuana, impose new controls on gun sales and grant Richmond and other localities authority to remove Confederate statues from public property.
The changes that become effective July 1 highlight the new power of Democratic majorities in the Virginia House of Delegates and state Senate that brought passage of long-sought progressive measures that previous Republican majorities had blocked.
However, the governor called for a slow-down on one high-profile measure — the first increase in the state's minimum wage in 11 years. Low-wage workers in Virginia might have to wait another year to get a $2.25 an hour increase in pay, from $7.25 an hour to $9.50 an hour.
Despite outrage from advocates and labor unions, Gov. Northam is calling for the General Assembly to postpone the approved increase in Virginia's minimum wage until to May 1, 2021, as a recession looms. The increase was to be effective Jan. 1.
The House and Senate reconvene next Wednesday, April 22, to consider amendments and vetoes the governor has made to legislation passed by the legislature earlier this year.
Amid a torrent of layoffs and furloughs because of the coronavirus pandemic, and with unemployment skyrocketing above levels from the Great Depression of the 1930s, businesses had urged the governor to delay the wage increase to avoid increasing the financial stress on employers.
Meanwhile, Gov. Northam signed legislation creating a fine for those caught with small amounts of marijuana and turning Election Day in November into a state holiday and eliminating the Lee-Jackson Holiday honoring Confederates.
The governor's signature on legislation also means Confederate monuments could be eliminated from public property, a prospect that Henrico Delegate Lamont Bagby, chair of the Virginia Legislative Black Caucus, welcomed.
Following the bill's signing, Delegate Bagby wrote in a social media post that the action caps years of advocacy by caucus members and represents a victory for black Virginians "who have struggled, and continue to struggle, in the pursuit of justice and equity."
Gov. Northam also signed bills Saturday that begin the process of replacing Virginia's statue of Confederate Gen. Robert E. Lee in the U.S. Capitol and removes from the state law defunct laws that once undergirded racial separation and white supremacy.
The bills he signed also provide for automatic voter registration by people getting licenses and conducting other business with the state Department of Motor Vehicles and remove other obstacles to voting, including a requirement to have a photo ID.
New gun control laws the governor signed — and that the Virginia Citizens Defense League is preparing to challenge as unconstitutional — include one requiring all gun sellers, licensed or not, to perform a background check on purchasers. Others restore a sales limit of one handgun a month, authorize courts and police to remove guns from people deemed dangerous to themselves or others and require owners to report the theft or loss of weapons to authorities within 48 hours.