Black clergy memorialize the dead; ask gov't. to address disparities
Adelle M. Banks/Religion News Service | 4/23/2020, 6 p.m.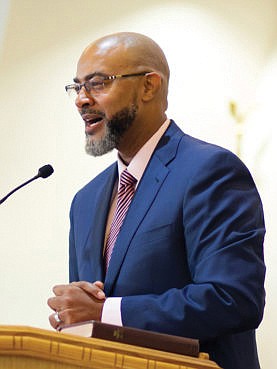 The Rev. Frank Williams has been so busy leading two black churches in the New York borough of the Bronx that he hadn't really considered the full extent of COVID-19's impact on his congregation, his family and his community.
But when asked, the Southern Baptist pastor of two churches, each with more than 200 members, realized after four weeks the list was long:
The Saturday before Easter, a beloved deacon — a decades-long friend who had been the property manager, the men's ministry leader and the person who ran the van ministry picking up seniors for Bronx Baptist Church — died from complications related to COVID-19.
Rev. Williams' wife, a hospital residency coordinator, and his three children, all under the age of 12, have recovered from COVID-19 and he preached his first online sermons from the Psalms while quarantined.
The 47-year-old pastor helped the staff of Wake-Eden Community Baptist Church's elementary school shift to remote learning and, as the need for food in the nearby community increased, worked to provide families with food that previously would have been prepared for their children at a church day care.
"The impact is very real for us, not just here in New York, but very real for us as a congregation," said Rev. Williams, a St. Kitts native whose churches include black Americans and immigrants from Africa and the Caribbean.
Across the country, black clergy say the coronavirus is touching — and sometimes taking — the faithful who, until a month ago, were accustomed to meeting weekly in their pews. Some are mourning losses in the highest echelons of their denomination. Others are counting the dead, sick and unemployed.
And some African-American pastors are joining forces to demand the Trump administration and congressional leaders take action, ranging from setting up testing sites in black and poor communities to providing masks to low-wage essential workers, prisoners and people living in homeless shelters.
The federal Centers for Disease Control and Prevention recently released a March report that showed 33 percent of hospitalized patients in a 14-state study were African-American; comparatively, African-Americans constitute 13 percent of the U.S. population.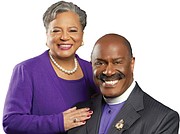 At least one historic black denomination has started a preliminary tally of the toll of COVID-19. Bishop Gregory Ingram leads the African Methodist Episcopal Church's First Episcopal District which includes the hard-hit areas of New York, and asked presiding elders within it to report what they knew about members' health and economic statuses. An April 15 report shows that throughout the district, which also includes churches in states such as New Jersey and Delaware, 48 members have died, 258 have been infected and 1,913 have become unemployed as a result of COVID-19.
"I had one church that lost three members in one day," Bishop Ingram said, referring to a congregation in Freeport, Long Island.
Another of the deceased from the AME denomination is Yonkers Pastor Scott Elijah, who died in late March. He was remembered not only by his small church but by Local 100 of the Transport Workers Union, which recalled his work with NYC Transit in a "Lost to Coronavirus" listing: "The entire Track Division is in mourning."