Black clergy memorialize the dead; ask gov't. to address disparities
Adelle M. Banks/Religion News Service | 4/23/2020, 6 p.m.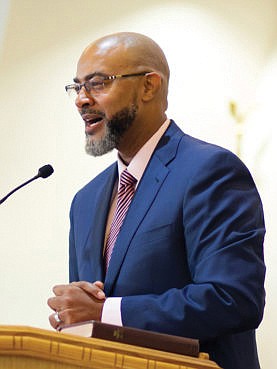 Bishop Ingram and his wife, the Rev. Jessica Ingram, have been praying on 6 a.m. daily calls with members of their district and following up by phone with church members who have lost loved ones to COVID-19.
"This is new territory for us," said Rev. Ingram, who as the episcopal supervisor for the district has been co-hosting Zoom meetings with leaders among the young adults, laity and pastors in the district. The training and study sessions have centered on topics ranging from the "new landscape of the church" to health disparities. "And we don't have answers, so basically I just express my prayers for them and listen and let them know that we are here for them," she said.
The Church of God in Christ, another historic black denomination, reportedly has lost close to a dozen of its bishops and other leaders to COVID-19, including Bishop Phillip Aquilla Brooks II, who was the Michigan-based first assistant presiding bishop.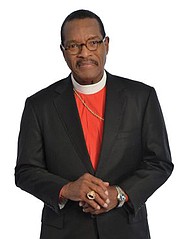 "The loss of such a respected visionary leader cannot be verbally expressed," said COGIC Presiding Bishop Charles Blake in a video announcement that did not specify the cause of death for Bishop Brooks or the others. "I know that the death of Michigan Bishop Brooks, Nathaniel Wells and so many others has caused great concern and great pain throughout the church, concern for our leaders and concern for the future of the church."
After noting that he and his family were well, Bishop Blake spoke of divine pledges and the need to lean on God.
"At this challenging time, I want you to remember that God has promised that the gates of hell shall not prevail against his church," he said in the announcement on the homepage of the COGIC website. "And I'm absolutely confident that God is going to bring us through this tough time together. We as people of faith must look to God and to the word of God as we have in challenging times past for hope and for encouragement."
At a video news conference hosted April 15 by the Samuel DeWitt Proctor Conference and Repairers of the Breach, black clergy called on leaders at the White House and in Congress to provide more resources to African-Americans and to focus more on humanity than the economy.
"Black people are more likely to be essential workers, keeping us safe and fed," said the Rev. William J. Barber II of North Carolina, president of Repairers of the Breach. "But these are the very people the stimulus bill did not provide (with) the essentials of health care, living wages or even guarantee that no water would be shut off, while corporations in less than three weeks got $2.5 trillion."
Clergy on the call spoke of praying over the phone with health care workers in their congregations who lack protective equipment and people who can't pay their rent.
"There is no sheltering in place when there is no shelter," said Bishop Yvette Flunder, a San Francisco preacher af- filiated with the Metropolitan Community Churches and who oversees a ministry site that provides food, medical and housing case management services.