Personality: Kyron Copeland
Spotlight on co-founder of Urban Cycling Group
8/6/2020, 6 p.m.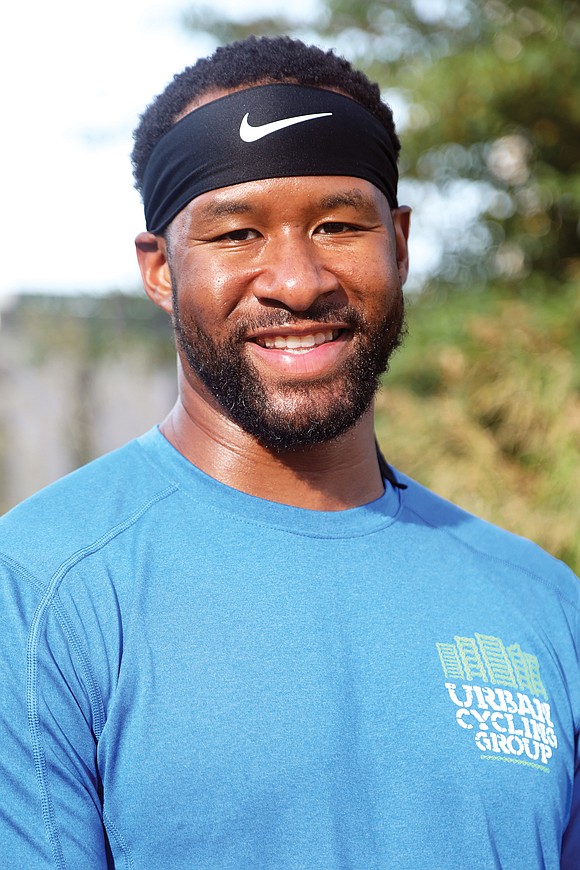 When restrictions to help curb the spread of the coronavirus began in Virginia, concerns arose about the need for exercise for people with certain medical conditions and those looking to maintain their health.
The Urban Cycling Group has built a unique niche in these uncertain times, guided in part by co-founder and executive director Kyron Copeland.
UCG was founded in May after Mr. Copeland and three others shared online their experiences during the pandemic biking on the Virginia Capital Trail. That led to an unexpected amount of interest that evolved into a group chat and social media posts and the organization of UCG.
Its first organized group ride Memorial Day weekend attracted 20 cyclists. The next ride attracted 50 cyclists.
Today, UCG has been able "to inspire so many people to engage in cycling and to participate within the community for positive change," Mr. Copeland says.
UCG does this through weekly "Ride With Us" events around the city and shorter, specialized social rides, including rides in partnership with others such as BareSOUL Yoga and Pedal Power.
So far, UCG has sought not only to promote biking and healthy living but social justice issues and causes. It held a ride during Juneteenth and Father's Day weekend in conjunction with R&B singer Trey Songz, a Petersburg native, in support of Black Lives Matter.
The group also hosted a ride in honor of the late Breonna Taylor, who was shot and killed by Louisville, Ky., police in her home in March. That event was with the group Angry Black Female.
Mr. Copeland says UCG plans to continue this kind of awareness-raising and advocacy in the future.
As the group's volunteer executive director, Mr. Copeland focuses on technology, event planning and the logistics of cycling because riders have to consider proper equipment for the rides and the need to ensure that COVID-19 isn't transmitted during these events.
Looking ahead, Mr. Copeland says among the strategic goals for UCG is to grow membership by 100 people by March and to host a cycling event in the city next year.
Already, UCG is set for its next social ride on Saturday, Aug. 8, in Washington.
UCG riders will join members of We Ride DC for a Black Lives Matter Ride For Justice.
"Together, we will ride in solidarity against racism, social injustice and systematic oppression," according to UCG's website. The cyclists also will visit Black Lives Matter Plaza near the White House.
Mr. Copeland says cycling has opened his eyes to the city, even as it boosts his health and well-being.
"I've been living here all my life," Mr. Copeland says, "and some of the places I've seen on a bike trip in the last six months I've never seen in my life living in Richmond."
Meet health and community advocate and this week's Personality, Kyron Copeland:
Date and place of birth: Nov. 12 in Richmond.
Current residence: Henrico County.
Education: Bachelor's in computer science-information systems, Norfolk State University; master's in sports leadership-sports management, Virginia Commonwealth University; and master's in information systems-IT management, VCU.