Social gathering takes new shape in era of COVID-19
8/6/2020, 6 p.m.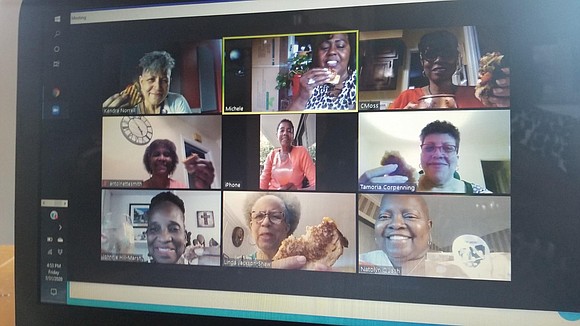 When the coronavirus threat erupted in March keeping people at home and isolated, it interrupted 20 Richmond sister-friends' weekly themed gatherings for happy hour, where they socialized and caught up on each other's lives.
Those gatherings kept them in close contact, as they ate meals, sipped cocktails, discussed family, life and politics, played games and enjoyed each other's company.
Being mandated to stay in and stay safe during the pandemic, they found a way to continue to connect — on the internet. And every Friday at 4:30 p.m., they now log into Zoom and continue to chat so they won't lose contact and to combat isolation.
Last Friday, the women celebrated their 20th week of COVID-19 virtual gatherings by individually ordering take-out from Cheddar Jackson, a Black-owned restaurant on 2nd Street in Jackson Ward. Then, settled in front of their computers, phones and other electronic devices, they shared a meal together virtually, sipped homemade cocktails and communed once again.
"When we started, we had no idea that the pandemic would be this long!" said Linda Jackson Shaw, a core member of the group. "That was 20 weeks ago."
The group members, many of whom are in the COVID-19 high-risk category because of age, are diverse in terms of how they live, Ms. Shaw said. "Some of us are living alone, while some have families they live with."
The Friday Zoom gatherings "give us the strength to keep going, as people don't handle COVID very well," said Johnnie Hill-Marsh, a newcomer to Richmond who enjoys her connection with the group.
During the virtual gatherings, the women play games, such as refrigerator scavenger hunts, what's in your pocketbook and who won the week, a takeoff on a segment on the MSNBC show "AM Joy."
Mikki Spencer, a Virginia Lottery host and media personality, also participates in the sister-friend happy hour.
"I realized there was a wealth of information and history, wisdom and knowledge in the group. They have experienced so much," she said about the upbeat sessions.
Although no one can predict when the pandemic will end, Antoinette Smith and Cheyenne Moss said they believe the group's virtual happy hours will still be going strong next year. Ms. Smith said the weekly interaction has positively impacted her life, which is the goal.
"As we come together, we support each other, love each other. We see ourselves as sisters. That gives us strength to go through the next week," said Ms. Hill-Marsh.