Falwell out as president of Liberty U.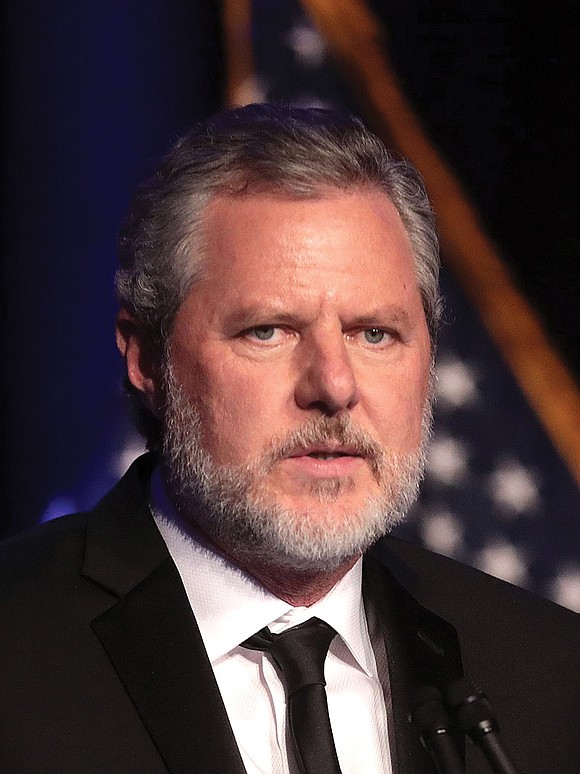 Jerry Falwell Jr. is out at conservative Liberty University.
On Aug. 7, the university announced in a one-sentence statement that Mr. Falwell was taking an indefinite leave of absence as president of the private, evangelical university founded by his evangelist father, the late Rev. Jerry Falwell, and which he has led for the last 13 years.
On Monday, the university announced that its board had chosen an interim president, Jerry Prevo, who has served as chairman of the school's board of trustees since 2003 and recently retired as the se- nior pastor of a Baptist church in Alaska.
The statement said Rev. Prevo would start immediately. What caused the change?
Calls for Mr. Falwell's resignation grew after he posted — and quickly deleted — a photograph of himself on Ins- tagram with his arm around a woman who was not his wife. Both had their pants unzipped, midriffs and underwear visible. Mr. Falwell held a glass of what he described as "black water" in the caption, noting it was not alcohol and "a prop only."
Mr. Falwell later said the photo was meant to be "in good fun" and identified the woman as his wife's assistant. He said the assistant is pregnant and couldn't get her pants to zip. He was wearing an older pair of pants that he couldn't zip them either, he said.
He also said the two were at a costume party while on vacation.
"I should never have put it up and embarrassed her. I've apologized to everybody. I promised my kids I'm going to try to be a good boy from here on out," Mr. Falwell told a Lynchburg radio station early last week.
But Congressman Mark Walker, a music faculty advisory board member and former instructor at Liberty University, tweeted the next day that Mr. Falwell should step down.
In an appearance on CNN, the North Carolina Republican repeated that call.
"I just think that there is a code that leaders have to live by, especially when you are leading the largest Christian, evangelical university in the country," Rep. Walker said.
"Now, Jerry Jr. — Jerry Falwell, Jr. — deserves a lot of credit for building Liberty University to what it is today, but there's been a pattern of behavior that's not becoming to what that school's code of conduct is," he continued.
Rep. Walker then called for Mr. Falwell to cease serving as president of Liberty — although he left open the possibility of taking a leave of absence instead of stepping down.
"This pattern of behavior has become troubling, and I believe whether it's a leave of absence or stepping down, I believe his behavior, the pattern of it, has warranted this," he said.
Internal criticism of Mr. Falwell's leadership and his behavior online has escalated in recent months, with Liberty University staff, students and alumni leading the charge.
When Mr. Falwell tweeted out an image in June of a mask emblazoned with a picture of a person in blackface from Gov. Ralph S. Northam's 1984 medical school yearbook page, several African-American faculty members resigned in protest, citing what they said were the school's long-standing issues with race and sexuality.