Payback? Questions raised about charges against Sen. Lucas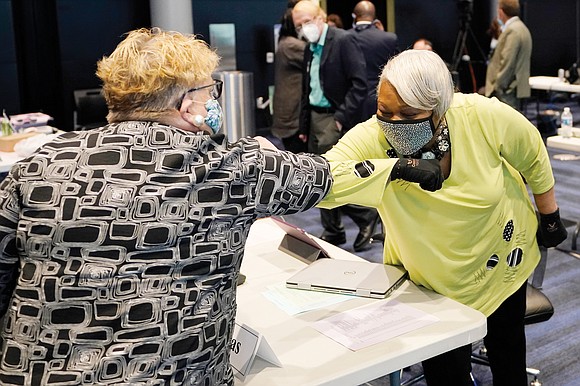 State Sen. Louise Lucas of Portsmouth, a key power broker and one of the highest ranking African-Americans in the General Assembly, has been charged with conspiracy to damage a Confederate monument during protests in Portsmouth that also led to a demonstrator being critically injured when the statue was knocked down.
Sen. Lucas, who was in Richmond on Tuesday for the convening of a special session of the legislature, said she will be beat the case against her. "It's just an unnecessary nuisance, but you know what? I will be vindicated," Sen. Lucas said.
Sen. Lucas, a Democrat who has served in the Senate since 1992, is now president pro tempore of the Senate. She is the highest ranking Black in the legislature's upper chamber outside of Lt. Gov. Justin E. Fairfax, who serves as Senate president.
Police in Portsmouth said Monday that they charged Sen. Lucas and seven others with conspiracy to commit a felony and injury to a monument in excess of $1,000. Both are felonies.
Six others are facing a single felony charge of injury to a monument in excess of $1,000.
Among those charged are James Boyd and Louie Gibbs, president and vice president, respectively, of the Portsmouth Branch NAACP, and branch member LaKesha Hicks; LaKeesha "Klu" Atkinson, a member of the Portsmouth School Board; and several members of the public defender's office.
The charges were filed the day before Virginia lawmakers began taking up dozens of criminal justice reforms during a special legislative session.
The reaction from some of Sen. Lucas' fellow Democrats was swift.
"It's deeply troubling that on the verge of Virginia passing long-overdue police reform, the first Black woman to serve as our Senate Pro Tempore is suddenly facing highly unusual charges," Gov. Ralph S. Northam, a Democrat, tweeted on Monday evening.
The American Civil Liberties Union of Virginia called for the charges against Sen. Lucas and others to be dropped. The ACLU said the charges constitute a stark overreach by police because they were not approved by the Portsmouth prosecutor's office.
Sen. Lucas is being charged at a time when many memorials to the Confederacy are being taken down, whether by demonstrators opposed to racial injustice or by authorities seeking to dismantle them through official channels. The monuments have long been viewed by many as symbols of white supremacy. But they've drawn increasing attention following the death of George Floyd, a Black man who died at the hands of Minneapolis police.
The charges stem from a June 10 protest that drew hundreds of people to a Confederate monument in Portsmouth's downtown. The monument, located in the middle of Court Street between High and Queen streets, consists of a large obelisk and statues of four Confederate military personnel. During the protest, heads were ripped off some of the statues, while one was pulled down, critically injuring a demonstrator.
Some of Sen. Lucas' fellow lawmakers have raised concerns that the case against her is political.
"This timely, suspiciously retaliatory attack on the first Black person and woman to serve as President Pro Tempore of the Virginia State Senate is unacceptable," the Virginia Legislative Black Caucus said in a statement.
Delegate Lamont Bagby of Henrico, caucus chair, said Sen. Lucas had "stood up for protesters" and was "there fighting for justice." "These charges against her are simply outrageous," he said. Sen. Lucas told a Portsmouth television station that she never urged protesters to vandalize the monument and didn't condone illegal activity. But she did appear on police body camera footage that has been posted on Facebook saying that the police couldn't stop what protesters were about to do.
Days after the incident, attorney Tim Anderson, a 2nd Amendment advocate who also owns a gun shop in Virginia Beach, started a petition to recall Sen. Lucas. In turn, Sen. Lucas filed a $20 million defamation lawsuit against Mr. Anderson.
Sen. Lucas declined to comment Tuesday on whether the charges are political payback, as some have suggested, for her proposed criminal justice and police reforms and her efforts to strengthen gun control laws in the commonwealth.
Sen. Lucas' attorney, Delegate Don Scott who represents portions of Portsmouth, Norfolk, Chesapeake and Suffolk, said on Tuesday that the senator was only at the protest from 2:30 to 3 p.m. on that June day. He said Sen. Lucas talked to some of the police officers and demonstrators about how no one could be arrested for peacefully protesting.
Delegate Scott said Sen. Lucas then left the protest — several hours before the heads of statues were ripped off by protesters and the protester was injured.
Police in Portsmouth have not described exactly what Sen. Lucas or the others allegedly did to merit the charges.
Portsmouth Police Chief Angela Greene, a former Richmond Police captain, said several people had conspired "to destroy the monument as well as summon hundreds of people to join in felonious acts."
Chief Greene said those acts "not only resulted in hundreds of thousands of dollars in damage to the monument, but also permanent injury to an individual."
The department has not released charging documents against Sen. Lucas or the others in the case. The local courthouse, where charging documents would be on file, has been closed because of the coronavirus pandemic.
Stephanie Morales, Portsmouth's commonwealth's attorney, did not sign off on the charges that police filed.