'Hair Love' gives color to Oscar winners list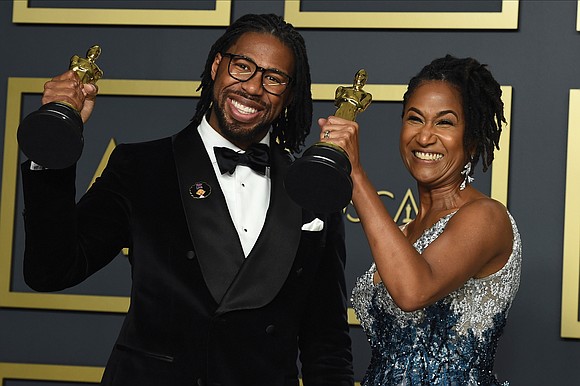 LOS ANGELES - A touching story about an African-American father trying to do his daughter's hair for the first time is an Oscar winner.
Former NFL wide receiver Matthew A. Cherry and his co-producer Karen Rupert Toliver won an Academy Award on Sunday night, taking home the Oscar statue for best animated short film, "Hair Love."
Mr. Cherry wrote the story, which is about an African-American father attempting to do his daughter's hair for the first time. He also directed and co-produced the nearly seven-minute film, which was financed through a Kickstarter campaign in 2017.
It was one of the few wins by people of color at this year's Academy Awards, which was roundly criticized in recent years because of its lack of diversity with the hashtag #OscarsSoWhite.
" 'Hair Love' was done because we wanted to see more representation in animation, and because we wanted to normalize black hair," Mr. Cherry said in accepting the award during the 92nd Academy Awards ceremony at the Dolby Theatre in Los Angeles.
In his speech, Mr. Cherry recognized late Los Angeles Lakers great Kobe Bryant, who won the same award two years ago for his film "Dear Basketball" and was close to his 13-year-old daughter, Gianna, who died in a Jan. 26 helicopter crash in Southern California with Mr. Bryant and seven other people. The father and daughter were flying to her basketball game.
"This award is dedicated to Kobe Bryant. May we all have a second act as great as his was," Mr. Cherry said.
Mr. Cherry never appeared in an NFL game, but his website states he was on the rosters of the Jacksonville Jaguars, the Cincinnati Bengals, the Carolina Panthers and the Baltimore Ravens before retiring in 2007 to pursue a career in the entertainment industry.
Now 38, Mr. Cherry played collegiately at the University of Akron from 2000 to 2003 and was a second-team, All-Mid- American Conference selection for wide receiver in 2003, when he made 66 receptions.
According to Kickstarter, Mr. Cherry raised more than $300,000 for the film, well over the $75,000 goal. Sony Pictures Animation picked up the film in early 2019 and showed it in theaters nationally with "The Angry Birds Movie 2."
The film also has been posted on YouTube, where it had more than 15 million views by Monday afternoon.
The story was adapted into a book, "Hair Love," written by Mr. Cherry and illustrated by Vashti Harrison, which was released in mid-2019, and made it to the New York Times Book Review Children's Best Seller list.
The Academy Award winner for best picture went to "Parasite," a dark social satire from South Korea, which made history as the first film in a language other than English to claim the movie industry's highest honor.
"Parasite," about the gap between rich and poor in modern Seoul, won a total of four Oscars, including best director and original screenplay for Bong Joon Ho and best international feature film.
No film had ever won both international feature film and best picture at the Oscars.