Exhibit focusing on the enslaved at Monticello to open Jan. 18 at Black History Museum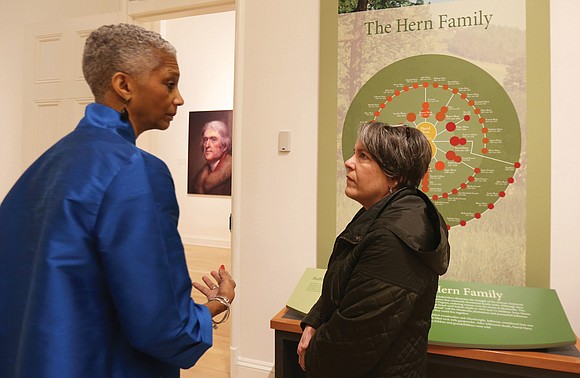 An exhibit exploring the lives of the enslaved community at Monticello and owned by Thomas Jefferson is opening Saturday, Jan. 18, at the Black History Museum and Cultural Center of Virginia in Jackson Ward.
The exhibit, "Paradox of Liberty: Slavery at Jefferson's Monticello," was 18 months in the making and includes more than 300 artifacts, documents, text panels, photographs and other items, including items found during archaeological digs at the third president's home outside Charlottesville.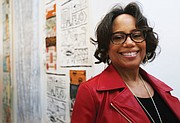 The exhibit explores the paradox of President Jefferson, who drafted the Declaration of Independence yet owned 607 black people during his lifetime.
" 'Paradox' demonstrates resilience, resistance and recovery of our enslaved ancestors," Gayle Jessup White, a Jefferson descendant through her father, Cedric Benedict Jessup, one of Jefferson's great-great-grandsons, and Monticello's community engagement officer, said during a news conference Tuesday at the museum. Ms. White also is related to two enslaved families at Monticello — the Hemings and Hubbard families.
As part of the exhibition that will run through April 18, the museum will have guided tours, a panel discussion with Jefferson descendants, documentary screenings, lectures and student activities, the dates of which will be announced later.
The Black History Museum is the only venue in the Mid- Atlantic region currently scheduled to host the national traveling exhibition, the culmination of decades of work by archaeologists, historians and curators to tell the stories of people who have long been ignored or marginalized in American history.
"I want young people to understand our ancestors were strong," Ms. White said. "I want them to be empowered by 'Paradox' because strength is in their DNA."
She said so many African-Americans don't know their history.
"It was no fault of our own. During slavery, it was illegal for our people to read and write," Ms. White said.
She said she started researching her family history at age 13 and found she is a direct descendant of Jefferson through Sally Hemings, an enslaved woman who had six children by Jefferson.
The Black History Museum and Cultural Center of Virginia is at 122 W. Leigh St.
Details: www.blackhistorymuseum.org or (804) 780-9093.