Mayor eschews status quo, urges city to think bigger in State of City address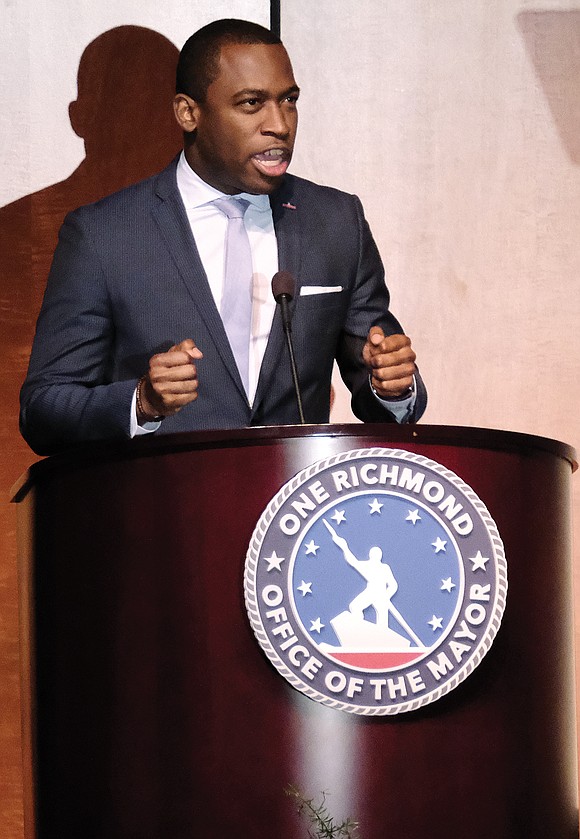 Stop being afraid to do something great.
That's Mayor Levar M. Stoney's response to the opposition to the $1.5 billion Coliseum replacement plan that so far has failed to gain widespread public support.
Refusing to believe that the massive plan is being rejected, the mayor used his third State of the City address Tuesday night to defend the proposal while also touting his accomplishments since taking office in 2017.
He also announced new initiatives, including plans to develop up to 10 new city parks and an affordable housing plan.
The crux of his speech, though, was a ringing defense of the Downtown redevelopment plan he sees as transforming a big section of underused Downtown real estate near City Hall.
He vowed to fight to the bitter end for the project despite facing certain defeat now that five members of City Council have said they plan to vote against it.
The plan needs seven votes from the nine-member council to be approved.
In Mayor Stoney's view, this is the project that Richmond needs to continue "its ascendant trajectory," uplift black and brown contractors with $300 million in contracts, create thousands of new jobs, boost the city's overall economy and bring in new revenue to build schools, upgrade city streets and create additional affordable housing.
While there is no immediate sign he changed any minds, Mayor Stoney, now entering his fourth year and preparing to run for re-election, insisted that "legitimate concerns" about the development have been addressed and that the only hurdle is a lack of faith in Richmond's ability to pull off such a project.
"Now we stand at a crossroads," the 38-year-old mayor told the nearly 400 people who gathered at the Virginia Museum of History & Culture and the thousands more who listened to a live stream of his address.
"My friends, we either go boldly into this new decade or become keepers of the status quo," he said in touting the plan spearheaded by the Navy Hill District Corp., which is led by top Dominion Energy executive Thomas F. Farrell II.
The plan would bring a new Coliseum, a convention hotel, more than 2,000 apartments and condos, new offices and 20 to 30 new restaurants and retail shops to 10 largely city-owned blocks near City Hall.
Drawing frequent applause, Mayor Stoney decried those who cannot see that the Navy Hill proposal is the right next step for a city that is "better and stronger and more resilient" than many think and "more competitive than it has been in years."
"Our city has a history of resisting change and letting past defeats stoke fears that challenge our faith in the future. Yes, we have taken swings and missed," the mayor said. "But if we truly want the change we need, if we truly want to move on from the mistakes of the past, we cannot be afraid to embrace opportunity when it stares us in the face."
Paul Goldman, leader of the Put Schools First campaign, said afterward that Mayor Stoney is missing the point.
"If this is such a great project, then let the people vote on it as recent city polls show that 86 percent of the people want to do," Mr. Goldman said. "There will have to be a referendum on casino gambling if that is to happen in Richmond. So why is he so opposed to letting people vote on the Navy Hill project?"
Council President Cynthia I. Newbille, 7th District, who supports the project, appeared inspired by the mayor's words. She is still holding onto hope that a deal can be made to secure the seven council votes needed for the Navy Hill development to move forward.
But that prospect appears unlikely based on the views of council opponents, including Councilwoman Kim B. Gray, 2nd District, and Councilman Chris A. Hilbert, 3rd District.
Councilwoman Reva M. Trammell, 8th District, another signatory to the resolution, made it clear the mayor did not persuade her to support the project.
"I listened to the speech, but I am set in my views," Ms. Trammell said. "I will never vote for this project. Never."
Mayor Stoney started his remarks by highlighting achievements that he said mean "the state of our city is stronger and more competitive than it has been in years."
He cited improvements in basic services, including the filling of 84,000 potholes since he took office in 2017; the repaving of 355 miles of city streets; the creation of an eviction diversion program that has aided 76 individuals; and the timely completion of annual financial reports.
He also cited the expansion of after-school programs that will reach students in every grade this year and the development of 1,628 units of affordable housing that have been completed or will be by the end of his first term. He said the number of new affordable housing units surpasses his goal of 1,500 by 2023.
He also touted the $1 billion in non-Navy Hill development announced in 2019.
Mayor Stoney said he and City Council will continue to support the transformation of public housing communities, and announced an affordable housing plan that would include Ms. Gray's proposal to allow homeowners to defer taxes.
He said his administration also will create the city's first Office of Children and Families to bring together programs scattered in different city departments and participate in a new regional task force seeking to improve the health outcomes for African-American mothers and infants.
Separately, despite shortfalls in spending on parks, the mayor set a goal of developing 10 vacant city parcels into new parks over time. The park development, he said, will help boost Richmond's municipally controlled green space from 6 percent toward the national average of 15 percent and bring parks closer to many residents.
The mayor justified the expansion by noting that nearly one in five city residents, 51,000, currently live more than a 10-minute walk to a park, and that the sites being considered would be those most vulnerable to climate change.
Mayor Stoney wrapped up his address by promising to keep giving everything he has.
"I will not rest," he continued, "until we have built the most welcoming, inclusive, equitable and competitive city in the entire country. This is our time, our chance, our opportunity to realize our potential to work together to empower others.
"After three years, I know Richmond can."