Faculty votes to drop Lee name from Washington & Lee University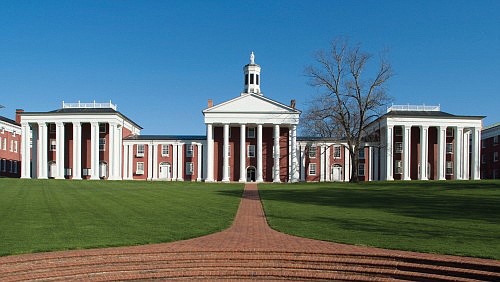 Faculty at Washington and Lee University voted on Monday to remove Confederate Gen. Robert E. Lee's name from the school.
But that doesn't necessarily mean such a change will occur. The board of trustees at the
small, private liberal arts university started in 1749 in Lexington now will consider the recommendation.
Monday's motion was approved during a special video conference meeting attended by 260 faculty members. The vote marks the first time such a recommendation has been sent to the board of trustees.
"The university's name rests with its board of trustees, and there are no current plans to change it," university spokesperson Drewry Sackett said.
The school, originally called Liberty Hall, was named Washington Academy for George Washington, an early benefactor, and later chartered as Washington College in 1813. After the Civil War, Gen. Lee became president, serving from 1865 to 1870, when he died. Soon after his death, trustees renamed the school Washington & Lee in his honor.
Gen. Lee and several family members, including his wife, parents and children, are buried in a mausoleum underneath Lee Chapel on campus.
The faculty meeting was called by W&L President Will Dudley after 225 faculty members signed a petition seeking the removal of all references to the Confederacy from the campus, as well as from the W&L name. Faculty members started talking about a possible name change a couple of weeks ago during a virtual meeting.
"We feel like we're going to end up on the wrong side of this as an institution and that it will harm us," said Jim Casey, an economics professor and W&L graduate who organized the initial meeting. "Everyone who was in that conversation feels that the best thing for our institution is to drop our affiliation with Lee."
Three permanent Black faculty members at W&L's law school want both names removed, according to a letter sent to President Dudley.
The issue has regained intensity since demonstrations for racial justice erupted across the nation and around the globe following the killing of George Floyd on May 25 by a Minneapolis police officer.
In its early years, the school admitted its first African-American student in 1795, according to school records. John Chavis, a free man who reportedly fought during the American Revolution, studied at the school, then known as Liberty Hall, but did not receive a degree. He previously studied at the Col- lege of New Jersey, which is now Princeton University. He later became an ordained Presbyterian minister and opened a school in Raleigh, N.C.
The university didn't enroll another African-American student until 1966 when Dennis Haston enrolled at the college and Leslie Devan Smith Jr. enrolled in the university's law school. Mr. Smith, who earned his law degree in 1969, is considered the first African-American graduate of the university and was honored with an installation at the law school in April 2019.
Mr. Smith, who earned numerous honors while in law school, began a promising legal career working in Washington with the Civil Rights Division of the U.S. Department of Justice. Tragically, he was murdered inside his DuPont Circle apartment at age 26.