Personality: Timothy O. Mallory
Spotlight on president of Richmond Chapter of Concerned Black Men
7/9/2020, 6 p.m.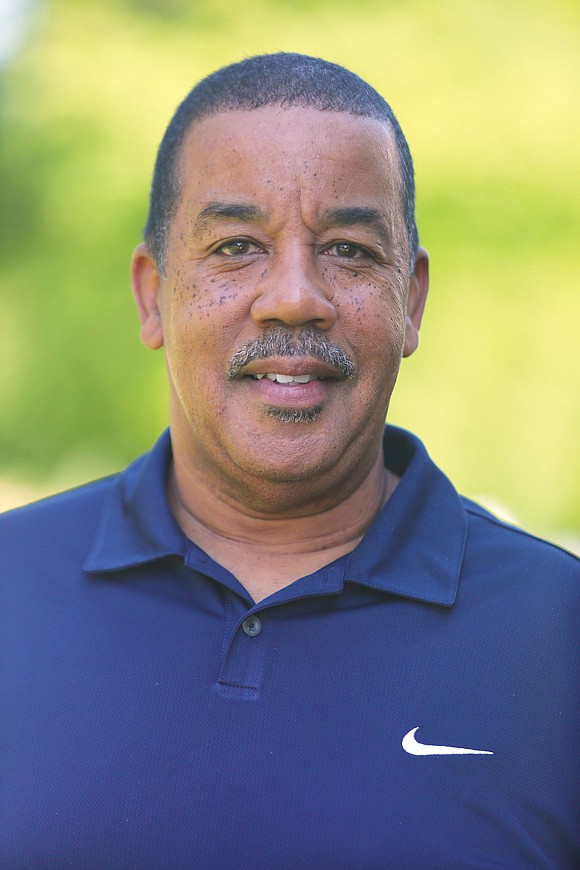 It all started in first grade— sort of.
In 2011, a father was invited by one of his son's elementary schoolteachers to join a volunteer organization focused on providing African-American boys in fifth through 12th grade with mentors and positive role models.
The organization is the Richmond Chapter of Concerned Black Men. The teacher was Tommy DeVaughn, then CBM Richmond's vice president. And that father was Timothy O. "Tim" Mallory, who has so thrived in his engagement with the organization that he now serves as CBM Richmond's president.
"It has been very enlightening," says Mr. Mallory of his tenure in the leadership role that began in 2016 and has lasted for two consecutive three-year terms. "I really enjoy doing it."
CBM Richmond was founded in December 1986 in response to what its founders saw as the negative influence of violence, crime and punishment on the city's youths. It is one of 10 chapters of Concerned Black Men of America devoted to improving the lives of children and helping create stable families.
With 14 members, the Richmond chapter's efforts are aided by a variety of groups and organizations, including Club 533, the Rho Eta Omega Chapter of Alpha Kappa Alpha Sorority, Linwood Holton Elementary School and the City of Richmond, among others.
As president, Mr. Mallory manages the group's statistical data, schedules and meetings and works with the group's webmaster. The newsletters, blog posts and many of the photos currently on the organization's website come directly from his work with the group. "There's a real sense of accomplishment behind doing what we're doing," Mr. Mallory says. "It's very rewarding work."
CBM Richmond provides a number of programs and activities for youths that typically run during the school year, all centered on five topics—career development, academic development, cultural awareness, personal growth and recreation. All are designed to impart lessons and skills for the boys and young men as they grow and mature into young adults. The programs range from visits and panel discussions with local businesses, study seminars and tutoring sessions and cultural awareness through museum visits and cultural activities. The programs also carry specific themes of self-respect, self-esteem and self-development that further aid personal development.
"This organization is truly impacting the youths that we serve," Mr. Mallory says, noting how students are sharing the lessons and skills learned in the programs with other youths.
Right now, CBM Richmond's top project is to increase its social media presence in an effort to grow membership. By increasing the membership, Mr. Mallory explains, CBM Richmond can increase the number of young people they can engage with beyond the 10 to 20 they typically mentor during the school year.
Like many organizations, CBM Richmond's biggest concern right now is the coronavirus, from the measures taken to ensure public safety to how the upcoming school year will be handled. CBM Richmond frequently works with youngsters inside Franklin Military Academy. The organization's program was brought to a sudden halt in March when schools were closed for the remainder of the academic year because of COVID-19. As a result, Mr. Mallory says, the organization has been regrouping and figuring out how it will operate in the future.
All the while, CBM Richmond members are waiting for the latest COVID-19 steps from local and state administrations to give them a clearer picture of how to best continue their work.
Mr. Mallory is confident that CBM Richmond will weather these abnormal times, however, not just in ensuring that members remain in contact, in discussion and formulating plans, but also remaining focused on providing young boys an avenue for maturity and self-improvement.
"What we do is for the young men," Mr. Mallory says. "We want to make sure that what we're doing is putting a good product together for the young men."
Meet mentor, role model, advocate and this week's Personality, Timothy O. "Tim" Mallory:
Occupation: Auto parts specialist at Advance Auto Parts.
No. 1 volunteer position: President, Richmond Chapter Concerned Black Men.
Date and place of birth: Nov. 14 in Richmond.
Current residence: Henrico County.
Education: Bachelor's in business management, Hampton University.
Family: Wife, Anita, and two children.
When elected chapter president: 2016.
Concerned Black Men is: A volunteer national community service organization dedicated to providing youths with mentors and positive male role models. We serve young boys in fifth through 12th grade.
Its mission: To enlighten our community and provide guid- ance to our youths through academic, cultural and recre- ational programs.
My first contact with the chapter: I was invited to join by my son's first grade teacher, Tommy DeVaughn, who was the vice president.
Its impact on my life: Concerned Black Men of Richmond has helped me raise my son, who has participated in the program. Assisting the boys in goal setting and watching them excel is very rewarding.
Number of members: 14.
Member profile: The current membership consists of a couple of the founding members and a number of new members. There are several with more than 10 years of service and they come from various careers and educational backgrounds.
When chapter was founded: December 1986.
Reason: To slow the trend of gang violence in the Metro Richmond area.
How many chapters in nation: 10.
Richmond Chapter's top project now: Figuring out how to increase our social media presence.
Its objective: To grow our membership to serve more young men.
No. 1 Concerned Black Men challenge: We must figure out how to operate with all of the new restrictions brought about by the global pandemic.
How I plan to meet it: We must wait to see where the governmental restrictions end up and adjust the current cur- riculum accordingly.
Why I am excited about CBM: This organization is truly impacting the youths that we serve. I have seen our etiquette program grow from teaching the boys how to tie neckties to the youths showing each other how to tie them.
CBM Richmond Youth Corps is: A group of young boys in fifth through 12th grade from all types of backgrounds.
Advice I give to young Black boys and men: Figure out what you're good at and find out what you love to do. It's a true blessing if they're the same thing.
CBM's work to improve community policing has been: The CBM have worked with the National Organization of Black Law Enforcement Executives (NOBLE) and the Richmond Police Department by conducting workshops to engage the youths.
How others can become involved: Go to www.cbm-richmondva.org.
I am most motivated now by: Learning. I try to learn something new every day.
A quote that I am inspired by: "Not everything that is faced can be changed, but nothing can be changed until it is faced." — James Baldwin
Three words that best describe me: Dedicated, adaptive and jovial.
Favorite recreational activity: Golf.
Prized possession: 1975 BMW 2002.
How I unwind: Playing my guitars.
Something I love to do that most people would never imagine: Gardening and cooking. I grow herbs, peppers and tomatoes.
Person who influenced me the most: My father.
The book that influenced me the most: "The Mis-Education of the Negro" by Dr. Carter G. Woodson.
What I'm reading now: The Bible.
My next goal: To get proficient at playing acoustic guitar.