City prosecutor to review Marcus-David Peters case
The Marcus-David Peters case is getting another look.
Richmond Commonwealth's Attorney Colette W. McEachin has begun a review of the controversial May 2018 police killing of the 24-year-old Henrico County man and biology teacher, even as she dismissed as unfounded a set of complaints against city police officers arising from recent Black Lives Matter protests.
Richmond protesters have tried to raise comparisons between Mr. Peters and George Floyd, the unarmed Black man whose May 25 killing by a white officer in Minneapolis sparked nationwide protests over police brutality and racial injustice.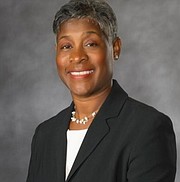 Demonstrators have informally renamed the grassy circle on Monument Avenue where the Confederate Lee statue stands in tribute to Mr. Peters. Members of his family and a coalition involved in the Richmond protests have made reopening his case a top demand, along with defunding the Richmond Police Department.
Amid the continuing protests, Mrs. McEachin, the city's top elected prosecutor, confirmed to the Free Press last Friday that she plans to read through the file that was compiled in the wake of the fatal police shooting of Mr. Peters.
However, Mrs. McEachin stated that her action does not mean the case would be reopened.
Instead, she stated she needs to read the information before coming to any decision about whether to change the conclusion of her predecessor, former Commonwealth's Attorney Michael N. Herring.
After a two-month probe, Mr. Herring found that Michael Nyantakyi, the African-American police officer who fatally shot the naked and unarmed Mr. Peters, acted justifiably. The officer began a vehicle chase of Mr. Peters after Mr. Peters side-swiped several cars as he drove toward the entrance of Interstate 95 on Belvidere Street near Downtown.
According to the report, Mr. Peters climbed out of his car window, ran onto the interstate and was struck by a car, then danced and rolled around in the traffic lane as vehicles slowed around him. When he noticed Officer Nyantakyi, he threatened to kill the officer and charged at him, screaming expletives. Officer Nyantakyi shot Mr. Peters only after his Taser failed to fully connect and subdue Mr. Peters. The incident lasted about 19 seconds.
Separately, in five initial complaints reviewed by Mrs. McEachin about police actions during the recent protests, Mrs. McEachin reported that a widely circulated video falsely portrayed the incident.
She also found that a police officer who sprayed pepper spray on an individual on June 1 did so after the person began throwing water bottles at him and other officers.
Mrs. McEachin found that allegations that an officer had a white supremacist tattoo on his arm and that another had painted herself in blackface also were false, based on the evidence she collected.
In a separate release, Mrs. McEachin noted that since 2016, the Richmond Police Department has referred 53 cases involving police actions to the prosecutor's office that the evidence did not support any criminal charges. More complaints are being reviewed, however, including allegations that police tear-gassed peaceful demonstrators nearly 30 minutes before a city curfew took effect on June 1.
In one incident, Mrs. McEachin labeled as inaccurate the claim that a Richmond Police officer "deliberately drove through a crowd and struck multiple people near Allen and Monument avenues" during a demonstration on June 13. Based on a review of at least four videos of the incident, she stated evidence shows the officer, who was driving a police SUV, did nothing wrong and that the only people who came in contact with the vehicle were those who put their hands or bodies on the vehicle themselves.
Mrs. McEachin also found video evidence disproved that a Richmond officer spit on a handcuffed protester on July 1, confirming a previous police statement that were regarded as serious enough to be considered for criminal charges.
Of the 33 cases reviewed to date, Mrs. McEachin stated that 17 were dismissed after a determination that the officer did not break the law. Another 12 cases ultimately were dismissed because the complainant refused to testify or there was a lack of trial evidence.
Of the four remaining cases, one was dropped by the officer and the complainant and two were rejected by the Richmond Grand Jury. Only one police officer, Lance T. Falkena, has been indicted for excessive use of force during a December 2019 incident. He is now scheduled for trial in August.