Protest appears to mix with mayoral campaign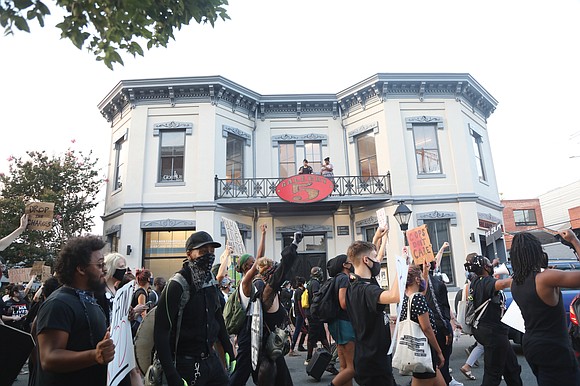 The race to become Richmond's next mayor appears be bleeding into the ongoing Black Lives Matter protests.
As the contest for the city's top elected office heats up, the most notable example of the confluence of the campaign and the protests to date has been the nighttime demonstration on July 15 in front of the Jackson Ward home of a top mayoral candidate, 2nd District City Councilwoman Kim B. Gray.
Supporters of a mayoral rival, Alexsis Rodgers, were highly visible at the protest, including social worker Chelsea Higgs Wise, a founder and leader of the progressive group Richmond for All that has been front and center in the local Black Lives Matter movement.
Ms. Wise, whom Ms. Rodgers prominently lists as one of her endorsers, was on a bullhorn leading chants of "Shut her down" as at least 150 people blocked the stretch of West Clay Street in front of Ms. Gray's home around 10:15 p.m.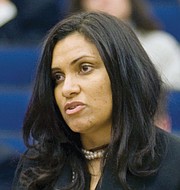 Ms. Rodgers, who has portrayed herself as generally backing the demonstrations and as supportive of the demands for change, did not respond directly to a Free Press request for comment.
Instead, the response came from Sheri Shannon, spokeswoman for Ms. Rodgers' campaign, who stated: "We are running a positive campaign and have not engaged in any malevolent tactics against Councilwoman Kim Gray or any of our opponents. Our campaign is about the people of Richmond. We will not stoop to mudslinging."
Ms. Gray, though, remains skeptical. She said along with targeting her home, supporters of Ms. Rodgers are openly boasting on Facebook and other social media about pulling up her campaign signs and trashing them.
Ms. Gray is still upset about having her home targeted.
Printed material is being circulated to protesters on how to influence public officials to meet their demands. One action idea is to show up at a target's house, "honking in cars with a band. Basically, don't let them sleep."
The first use of the tactic apparently occurred June 16 when more than 200 people, some armed, gathered outside Mayor Stoney's condo building in Downtown. About 25 protesters entered the building to try to speak to the mayor directly before being asked to leave by security. The protest also included loud chanting of his name and spraypainting tags such as "WYA Stoney?" on the building.
Ms. Gray said her children were home during the protest outside her home and were traumatized by the noise and yelling of a crowd that included people openly carrying firearms.
Ms. Gray, who is African-American, said the demonstrators also frightened neighbors in the historically Black neighborhood.
It is "truly sad that recent events in Richmond have reached the point that individuals are threatened in their own homes. Apparently, some have come to believe they can intimidate citizens asleep in their beds," Ms. Gray said.
She said she is open to talking policy with people willing to voice their opinions, but, she added, "There is simply no place in our city for the politics of fear. The right to protest does not include the right to frighten children, senior citizens or anyone."
Ms. Gray, vice chair of City Council's Public Safety Committee, also was critical of police for failing to intervene to enforce laws barring the kind of protests that took place outside her home, including having protesters block a public street, stating that "a Mayor Gray would not allow this to happen."
In an official statement, the Richmond Police Department reported that it monitored the protest from its beginning around 7 p.m. at the Richmond Coliseum to its arrival at Ms. Gray's home.
"The group was closely monitored for any actions that would have threatened public safety," according to the police statement.
Ms. Gray disputed the account. She said that she and her neighbors never saw any police cars or noted any police presence in response to calls.
According to the department, officers established telephone contact with Ms. Gray and maintained it through the protest, which it said lasted 15 minutes. Ms. Gray said that the only advice police could offer was to stay indoors for her own safety. She said the protest lasted at least 30 minutes.
Just as during the demonstration at Mayor Stoney's residence, no arrests were made.
The police response in both cases stood in marked contrast to the police response on June 26 to the sit-in demonstration in front of the South Side home of Richmond Commonwealth's Attorney Colette W. McEachin and her husband, Congressman A. Donald McEachin.
At that demonstration, police arrested 15 people, including 11 who were charged with violating a state law that bars picketing of a private residence — a law that was not applied to those gathered in front of Ms. Gray's home or at Mayor Stoney's residence.