Biden wins Virginia
1.3M state voters turn out for Super Tuesday presidential primary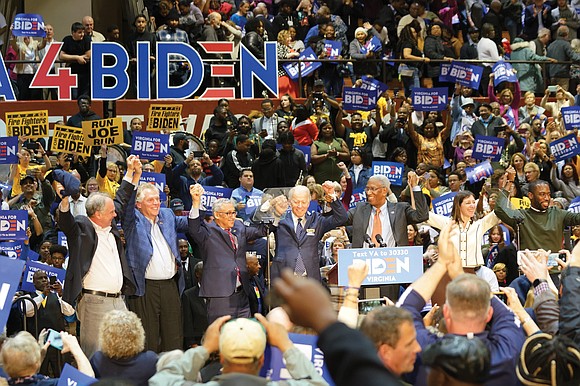 Vying to become the Democratic challenger to President Trump, Joseph R. "Joe" Biden Jr. swept to primary victories in Virginia and eight other states on Super Tuesday, thanks to a huge surge of support from African-American voters.
On a day when the turnout hit record levels for primary elections, exit polls suggest the former vice president, who served with former President Obama, won 63 percent of the crucial African-American vote in Virginia and similar levels in Alabama, North Carolina and Tennessee.
The huge vote for Mr. Biden mirrored the support he received from African-American voters in South Carolina.
That support, which followed the endorsement of U.S. Rep. James Clyburn, a key political leader in that state, enabled Mr. Biden to win that state's primary on Saturday and gain momentum heading into Tuesday's primary extravaganza when voting took place in 14 states and American Samoa.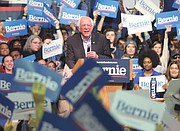 The bottom line: Mr. Biden, 77, has regained front-runner status in a race that essentially has become a head-to-head contest between him and U.S. Sen. Bernard "Bernie" Sanders, 78, of Vermont to become the party's champion in the upcoming contest with the 73-year-old president.
U.S. Sen. Elizabeth Warren of Massachusetts remains in the race, but few regard her as a contender who can win the party's nomination, particularly after she came in third in her home state's primary that Mr. Biden won narrowly over Sen. Sanders.
Along with Virginia and Massachusetts, Mr. Biden won Tuesday's Democratic contests in Alabama, Arkansas, Maine, Minnesota, North Carolina, Oklahoma, Tennessee and Texas.
Mr. Biden appeared to be aided by the decisions of Pete Buttigieg, former mayor of South Bend, Ind., and U.S. Sen. Amy Klobuchar of Minnesota to drop out and endorse him before the vote on Tuesday, a sign, analysts said, that the party's regulars are starting to coalesce around Mr. Biden as the preferred candidate.
Overall, a surging Mr. Biden finished the night with a small lead in pledged delegates, 566 to 501 for Sen. Sanders.
Sen. Sanders won four states Tuesday — California, Colorado, Utah and his home state of Vermont.
Former New York Mayor Michael R. Bloomberg won Tuesday's contest in American Samoa.
According to the party, a total of 3,979 delegates are to be selected from state primaries and caucuses, with the winner needing 1,991 to claim the nomination on the first ballot at the Democratic National Convention in July. The delegates would be released if a second or third round of voting is needed.
Mr. Biden's success led Mr. Bloomberg to drop out of the race on Wednesday and endorse the front-runner as the best chance to defeat the president.
Virginia had 99 delegates at stake Tuesday, the fourth largest haul among the 15 Super Tuesday contests. And the Commonwealth's results provided to be a bellwether for the night and the largest vote ever in a presidential primary contest in the state.
The unofficial Virginia results showed Mr. Biden received 705,225 votes, or 53 percent of the more than 1.3 million votes cast."Virginians have spoken loud and clear, and the unmistakable message is that they are ready for Joe Biden's decency, character and experience in the White House," U.S. Sen. Tim Kaine of Virginia tweeted after news outlets projected Mr. Biden to have won the state almost immediately after the polls closed.
Mr. Biden's vote total allowed him to claim 66 of the Virginia delegates and was more than twice the 306,000 votes cast for Sen. Sanders, who is expected to receive 31 delegates.
The size of Mr. Biden's victory is astonishing. In 2008, then candidate U.S. Sen. Barack Obama was amazed when he won 627,820 votes to top his closest rival, Hillary Clinton, and other contenders in the Virginia presidential primary.
Mr. Biden received just 795 votes in that contest in which nearly 1 million votes were cast, a record that was broken in Tuesday's contest.
Mr. Biden not only topped former President Obama's result by 78,000 votes, but he also eclipsed Mrs. Clinton's 2016 primary results when she received nearly 505,000 votes to win Virginia.
In Richmond, more than 52,000 people went to the polls, or about one-third of the registered voters in the city. That turnout also appears to be a modern record for a presidential primary. It beats the turnout in 2016 when nearly 50,000 people cast votes either in the Democratic or the Republican primary held on the same day.
Mr. Biden swept seven of the nine City Council districts in winning the city. He won 48 percent of the vote in Richmond, claiming the 1st and 4th districts as well as the 3rd, 6th, 7th, 8th and 9th districts. Sen. Sanders secured victory in the 2nd and 5th districts, winning 34 percent of the votes cast in the city.
Overall, Mr. Biden was listed as winning 24,355 votes to 18,995 for Mr. Sanders. Both Mr. Bloomberg and Ms. Warren were also-rans both in Richmond and across the state.