Closing Cathy's Camp in midst of emergency
3/19/2020, 6 p.m.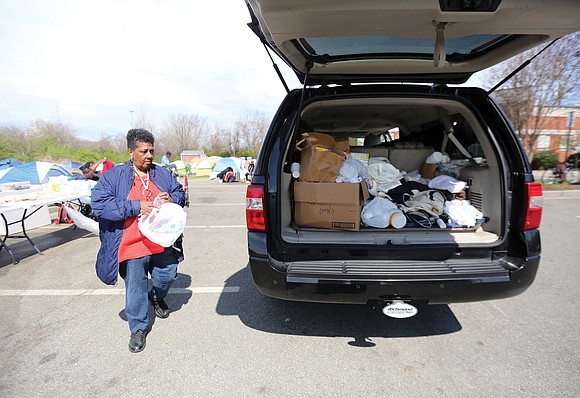 The tents started to come down Wednesday.
At this point, only a small group of people remain in the homeless community known as Cathy's Camp beside the city's cold weather shelter on Oliver Hill Way across from the Richmond Justice Center.
"Maybe 20 to 25 people are left, and they should be moved" in the next day or two, Rhonda Sneed said Wednesday. She returned to the camp and used her phone to broadcast the tent
removal around 7 p.m.
That's far sooner than the March 31 deadline the city imposed for everyone to be out and the tents taken away.
Ms. Sneed is a co-founder of Blessing Warriors RVA, the all-volunteer group providing services to the homeless, and helped launch the tent city — named for the late Cathy Davis, the other co-founder — as a shelter for people who needed a place to sleep.
The urgency to shut down the camp has been fueled by the coronavirus emergency.
Without waiting for formal approval from City Council, Mayor Levar M. Stoney used his emergency authority to shift $2.1 million in city funds to spur the move of the camp residents to area hotels and motels. The measure was introduced Monday and is expected to win approval Monday, March 23, when City Council is scheduled to hold its regular meeting.
The spending is part of a series of steps that Mayor Stoney announced to help stem the pandemic and help residents during the crisis, including dropping interest and penalties on late filing of all city taxes; halting all disconnections of utility services; closing libraries and recreation centers; and eliminating any city-sponsored public meetings, except for City Council.
The funding has enabled Homeward, the regional homeless coordinating group, and its partners to relocate about 17 people from Cathy's Camp to the Massad House Hotel in Downtown, and with help from Blessing Warriors RVA, to place the majority at the Rodeway Inn in Henrico County near the airport.
The relocations began Monday, although the process was clearly uneven. Delivery of meals to those who were transferred to hotels did not begin until Tuesday. A few people walked back to the camp to get something to eat, including one man who walked at least 5 miles from the motel on Williamsburg Road near the airport.
Complaints about bedbugs at the Downtown hotel led some to return as well.
As of Tuesday, 50 people had been relocated, with another 12 relocated Wednesday, with meal service up and running, according to Kelly King Horne, Homeward's executive director. "We plan to provide two weeks (stay in the hotels) and go from there," she said.
It is not yet clear whether most of the camp's residents will gain permanent housing.
Ms. Sneed said that she is cooperating because the camp is "no longer safe" as a few newcom- ers continue to arrive. She said a man who had been treated for pneumonia and discharged from a hospital arrived on Tuesday night. "He could hardly breathe," she said.