African-Americans claim several prestigious Pulitzer Prizes
5/7/2020, 6 p.m.

People of color and stories about people of color dominated this year's Pulitzer Prize awards announced Monday that recognize achievements in 15 journalism and seven arts and letters categories.
Nikole Hannah-Jones of the New York Times won the Pulitzer Prize for commentary for "Lessons of the 1619 Project," part of the newspaper's acclaimed exploration of the legacy of black Americans starting with the 1619 arrival of the first enslaved Africans 400 years ago in Virginia.
In her essay, which has been described as phenomenal and deeply personal, she wrote, "But it would be historically inaccurate to reduce the contributions of black people to the vast material wealth created by our bondage. Black Americans have also been, and continue to be, foundational to the idea of American freedom. More than any other group in this country's history, we have served, generation after generation, in an overlooked but vital role: It is we who have been the perfecters of this democracy."
After the Pulitzer announcement, Ms. Hannah-Jones told the Times staff it was "the most important work of my life."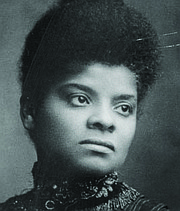 Other winners include:
• Ida B. Wells, a crusading investigative journalist and civil rights icon who died in 1931, who received a special posthumous citation for "her outstanding and courageous reporting on the horrific and vicious violence against African-Americans during the era of lynching," the Pulitzer Committee stated.
The citation comes with a $50,000 grant to support Ms. Wells' mission, with honorees to be announced later.
In an interesting twist of fate, Ms. Hannah-Jones is a co-founder of the Ida B. Wells Society for Investigative Reporting that is dedicated to training more people of color to become investigative journalists.
"Ida B. Wells & I were awarded the Pulitzer on the same day," Ms. Hannah-Jones stated Monday on Twitter. "How can I not believe that the ancestors intervened on this moment? I'll say more later. For now I will sit in the truth of how she, how they, cleared a path for me, how they endured so that I & the #1619Project could be."
• Colson Whitehead, the Pulitzer Prize for fiction for his novel "The Nickel Boys," which his publisher said is based on the real story of an abusive reform school in Florida that operated for more than 100 years.
Mr. Whitehead previously won a Pulitzer for his 2017 book, "The Underground Railroad," which is being adapted into an Amazon series by "Moonlight" writer-director Barry Jenkins.
• Jericho Brown, an Emory University professor, won in the poetry category for "The Tradition," a collection of his work. In awarding the prize, the Pulitzer board described his work as a "collection of masterful lyrics that combine delicacy with historical urgency in their loving evocation of bodies vulnerable to hostility and violence."
Mr. Brown, 44, is director of the creative writing program at the Georgia university.
• Michael R. Jackson won the Pulitzer for drama for "A Strange Loop," a musical that made its world premiere off-Broadway last spring, that centers on a black, queer writer working a day job he hates while writing a stage show.
According to the Pulitzer committee, the piece "tracks the creative process of an artist transforming issues of identity, race and sexuality that once pushed him to the margins of the cultural mainstream into a meditation on universal human fears and insecurities."
• Anthony Davis won in the music category for his opera, "The Central Park Five," about five African-American and Latino teenagers who were convicted of the 1989 rape of a young, white female investment banker in Central Park, but exonerated 13 years later through DNA evidence.
Mr. Davis, a professor at the University of California, San Diego, premiered the work last June at the Long Beach Opera in California.
The Pulitzer judges described the opera as "a passionate story about an issue that still rocks America today."
W. Caleb McDaniel won in the history category for, "Sweet Taste of Liberty: A True Story of Slavery and Restitution in America." The Pulitzer judges said it is a "masterfully researched meditation on reparations based on the remarkable story of a 19th century woman who survived.