GRTC passengers must wear face masks beginning Friday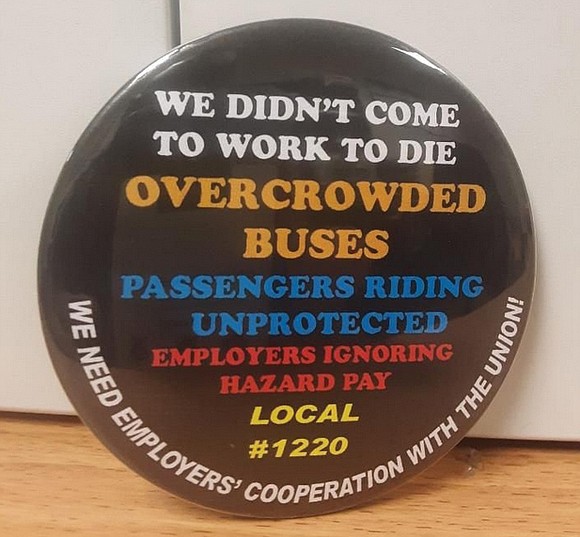 The rides will still be free, but GRTC will require passengers to wear face masks, or nose and mouth coverings, as of Friday, May 29, to board its regular buses, vans and Pulse rapid transit.
GRTC, which previously spurned a union request for such a safety precaution during the pandemic, bowed Tuesday to an order from Gov. Ralph S. Northam that anyone age 10 or older would need to wear a face covering to use public transportation, access government services or enter businesses like grocery stores where social distancing would be difficult.
The new rule would not apply to those who cannot wear masks for health reasons.
In making its announcement, GRTC did not indicate how the company would enforce the requirement. The announcement from Julie Timm, GRTC's chief executive officer, stated only that "passengers without masks may be asked to exit the bus."
In response to a Free Press query, Ms. Timm noted that "GRTC does not have transit police" and would not ask drivers to take any action regarding unmasked people who board, although she said some drivers might not stop for riders known to refuse to wear masks.
GRTC also reported that it has distributed 2,000 masks to riders and currently has submitted an order for 20,000 additional masks for passengers who might need them. The new masks might not be available on Friday.
Ms. Timm previously rejected a mask requirement to avoid conflicts between drivers and passengers who objected. Until now, the state had not mandated masks.
The decision came as the union representing nearly 300 full- and part-time drivers and other GRTC employees began distributing to members but- tons that criticize the transit company for its handling of their coronavirus concerns.
As provided by Maurice Carter, president of Amalgamated Transit Union Local 1229, the button's message states, "We didn't come to work to die" and lists two key concerns of drivers, "Overcrowded buses; passengers riding unprotected."
So far, five bus operators and one office worker have tested positive for COVID-19, GRTC has reported. That includes two operators who were hospitalized, according to GRTC. All of the infected are in recovery, company spokeswoman Carrie Rose Pace stated. The office worker has returned to work; the others remain on leave, she added.
In the past two weeks, GRTC has stepped up overnight disinfection of buses and purchased face shields for drivers, Ms. Rose previously reported.
Ms. Pace, in response to a Free Press query, stated that GRTC has not installed promised plastic shields in most of its buses or vans.
On Tuesday, GRTC selected the retrofit design for driver shields, she stated, and "we are proceeding with the material orders for complete fleet installation." She stated GRTC had previously installed shields in 32 buses.
Meanwhile, GRTC is considering addressing another issue Local 1220 listed on its buttons — "hazard pay." Ms. Pace stated the issue of front line pay "is under GRTC board of directors' review, with a decision expected in June."