School Board approves demolition of Elkhardt-Thompson Middle School building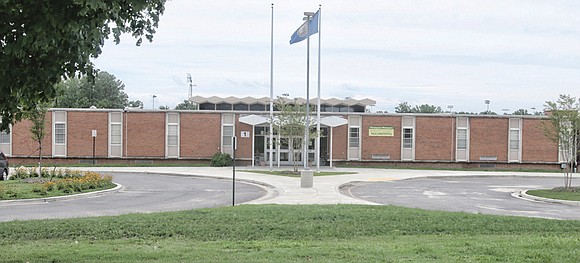 The Richmond School Board has ap- proved the demolition of the Elkhardt-Thompson Middle School building on South Side.
At its meeting Monday night, the board voted 8-0 vote to demolish the building at 7825 Forest Hill Ave., next to Huguenot High School. Board member Dr. Patrick Sapini, 5th District, did not attend the meeting.
The building has been replaced by the new $64.5 million, 1,500-student capacity River City Middle School on Hull Street Road in South Side.
Superintendent Jason Kamras told the board in a presentation that the middle school opened in 1966 and was inherited by the City of Richmond in the 1970 annexation of part of Chesterfield County.
He said the building is no longer fit for student or staff use, its roof, boilers, chiller and cooling tower are all well beyond their life expectancy and at, or nearly at, their failing point.
"Razing the building now would put the district in a position to potentially build a new middle school on the site at some point in the future when needed," Mr. Kamras said.
Estimates received to demolish the building are around $650,000, he told the board.
Mr. Kamras said demolition of the old George Mason Elementary and E.S.H. Greene Elementary buildings are on track to begin early next year.
"The administration is presently scoping out all of the details in preparation for those demolitions," he said.
George Mason was replaced with the new Henry L. Marsh III Elementary on 28th Street in Church Hill, while Greene Elementary was replaced with the new Cardinal Elementary School on Catalina Drive in South Side.
"If RPS remains virtual in the second
semester, the demolition (of the Elkhardt-Thompson building) can be done while no students are present at Huguenot High," Mr. Kamras said.
He added, "There is a cost for not demolishing Thompson, including boarding up the building, mothballing and other measures and upfront costs of $60,000; an ongoing annual cost of $100,000 for utilities and facility upkeep; and addressing existing roof leaks to prevent mold and other damage at a cost upward of approximately $1 million."
In others matters, RPS parents have an opportunity to voice their thoughts, concerns and desires about how the school district should move forward for the second semester.
RPS has launched two surveys—one for families and one for staff members—to assist the School Board and administration to determine if schools should reopen for in-person learning when the second semester begins on Feb. 8.
Surveys received to date from 15 percent of RPS families and 80 percent of RPS teachers and staff show most want to continue with virtual learning during the next semester.
The survey, which can be completed anonymously, is open until Dec. 6 on the RPS website, www.rvaschools.net. The survey also asks questions regarding academic support services for RPS students, transportation needs if students were to attend a hybrid school schedule and the family's economic situations. It also contains a space for comments, which will be posted on the RPS website, along with as survey results.
The School Board will make a final decision at its Dec. 7 meeting.