Church-based education pod opens in East End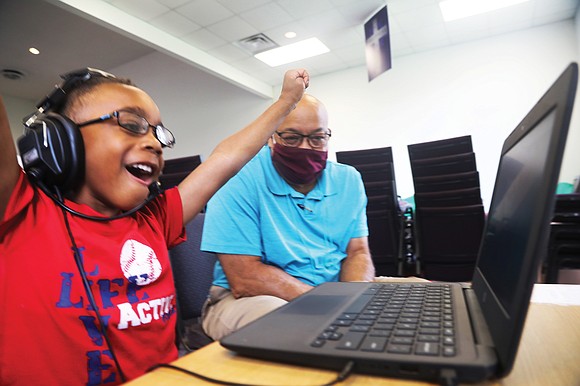 Dr. Patricia A. Gould-Champ's ministry is supporting East End students and parents with learning pods as a daily education solution.
Dr. Gould-Champ, founding pastor of Faith Community Baptist Church on Cool Lane, has a simple desire behind creating the pods—supporting the community with a safe learning environment for youngsters with reduced risks of exposure to the coronavirus.
The church's program, Project Stay Connected/Stay on Point, allows the 16 participating students in kindergarten through fifth grade to do just that — be connected as well as to stay on point educationally. Students attend the program at no charge and have the help of volunteers as they use laptops to log into their virtual classrooms from 8:30 a.m. to 3:30 p.m. Monday through Friday while their parents work.
The children are enrolled at a variety of schools, including Fairfield Court, Overby-Sheppard, Westover Hills and the new Henry L. Marsh III elementary schools. One youngster is enrolled at an elementary school in Henrico County.
The volunteers, who now work one-on-one with the kindergartners, are doing what parents would be if they could stay at home and help their children. The volunteers help them through the day with logging on to the computers, navigating virtual classes, remaining focused at their desks, keeping their protective face masks on, having lunch and enjoying recess and participating in other school activities and lessons that are offline.
Part of the day's routine includes gardening and outdoor activities on the church grounds in the afternoon. It helps to reduce the stress built up by youngsters staying in front of a computer for long stretches. Parents have complained about too much screen time for their children since Richmond Public Schools' virtual fall semester began on Sept. 8.
The project has reached out to Armstrong High School and Martin Luther King Middle School families to fill the 12 additional slots available being held for older students.
"When the schools decided to go virtual, we (the church) wanted to help the best we could," said Dr. Gould-Champ, who also is an educator. "We realized that some of our younger students would find virtual learning to be difficult to almost impossible."
After clearing the chairs, Faith Community Baptist Church's sanctuary is turned into a classroom each day for the program. Individual desks are positioned 6 feet apart and students receive new face masks each day, both universal health protocols to combat the coronavirus. Hand sanitizer and tissues are stationed at each desk for additional student and volunteer protection.
At the start of the day, students' and volunteers' temperatures are taken and, throughout the day, volunteers wipe down and sanitize the restrooms and other highly touched surfaces.
Breakfast and lunch, picked up daily at Armstrong High School, are provided by Richmond Public Schools.
Because the project is not in a licensed child care facility, state funding is not available to support the church's program, Dr. Gould-Champ explained. She said she has contacted Delegate Delores L. McQuinn, who represents the area, to advocate for a budget amendment for state support for church-based and home-based education pods that are not certified child care facilities.
"The state is trying to deal with day care as students are out of school and parents work," Dr. Gould-Champ said. "I asked Delegate McQuinn to advocate changing the (budget) language so all of the funding would not have to go to certified day care centers or schools.
"The Commonwealth has $16 million in the budget for certified day care centers and schools. We are neither. But we are trying to meet the needs in an emergency situation and serve students whose parents have to work and are accustomed of having their children in school," she said.
State budget amendments are being discussed and worked on now during a special session of the General Assembly.
At present, Project Stay Connected/Stay on Point as been supported by various community groups, including the Buffalo Troopers Motorcycle Club of Richmond, Capital Area Partnership Uplifting People and Just C, a nonprofit organization started by Chenice Brown-Johnson for inner-city youths. The groups have donated computers, desks and other school supplies for the project.
One donor, Dr. Brenda T. Williams, a retired education professor at the College of William & Mary and longtime friend of Dr. Gould-Champ, contributed to the project to honor of her late sister, Rose Toler Brown, who taught for many years in public schools in Hampton and Virginia Beach.
"What Faith Community Baptist Church's program offered Richmond children just touched our heart," Dr. Williams said.