Juneteenth now officially a state holiday
Sam Fowler/Capital News Service | 10/22/2020, 6 p.m.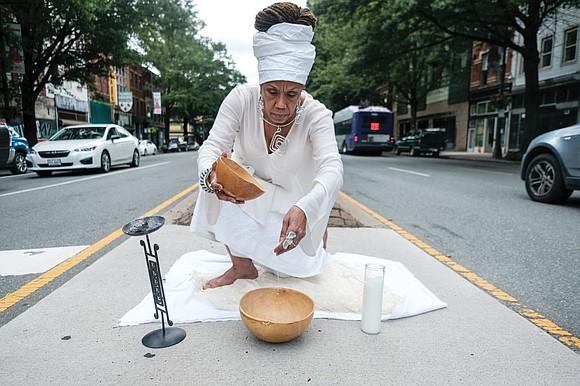 Juneteenth officially has become a state holiday after lawmakers unanimously approved legislation during the Virginia General Assembly's special session.
Juneteenth marks the day on June 19, 1865, in Texas when the last enslaved African-Americans learned they were free following the Civil War. Virginia's holiday also is to recognize the significant roles and many contributions ofAfrican-Americans to the Commonwealth and the nation.
The companion bills making Juneteenth a state holiday were introduced by state Sen. Mamie Locke of Hampton and Delegate Lamont Bagby of Henrico, both Democrats and members of the Virginia Legislative Black Caucus. Delegate Bagby also serves as the caucus chairman.
Gov. Ralph S. Northam signed the legislation on Oct. 13 making June 19 a state holiday.
State offices will be closed and state employees will have the day off. If the job requires individuals to come in to work, then they will be compensated with overtime or extra pay, said state Sen. Jennifer L. McClellan of Richmond.
"Juneteenth is the oldest celebration of the end of slavery in the United States," Gov. Northam said during a news conference last week. "It's time we elevate this, not just a celebration by and for some Virginians, but one acknowledged and celebrated by all of us."
Delegate Joshua G. Cole, a Fredericksburg Democrat, introduced a bill during the regular legislative session earlier this year to recognize Juneteenth as an official state holiday, but the proposal didn't advance. He was a chief co-patron on the bill that passed during the special session.
Then in June, Gov. Northam signed an executive order recognizing the day this year and giving state employees in executive branch offices the day off, along with employees of state colleges and universities. He held a news conference at the time with songwriter-singer-producer Pharrell Williams, a native of Virginia Beach, and several others.
Some Virginia localities, including Richmond and several cities in Hampton Roads, also observed the holiday this year.
"I think it is overdue that the Commonwealth formally honor and celebrate the emancipation and end of slavery," said Delegate Mark L. Cole, a Fredericksburg Republican who signed onto the bill, stated in an email. "It was a step towards fulfilling the promise of equality contained in our founding documents."
The Elegba Folklore Society, a Richmond-based organization focused on promoting African and African-American culture, history and arts, has been celebrating the holiday for many years. The celebration usually is a three-day weekend event that looks at the history of Juneteenth. It includes a torch-lit walk along the Richmond Slave Trail from the Manchester Docks, the city's port where ships bearing enslaved Africans were loaded and unloaded, to the area in Shockoe Bottom where slave markets were held, said Janine Bell, Elegba's president and artistic director.
"We take time to just say thank you to our ancestors, their contributions, their forfeitures, their trials and tribulations," Ms. Bell said. "We invite people to Richmond'sAfrican Burial Ground so that we can go there and pay homage from a perspective of African spirituality."
Juneteenth should not be used as another holiday to look for bargains in stores, Ms. Bell said. It should be a time of reflection about liberty, as well as for celebration and family strengthening.
"It's a time for optimism and joy," Ms. Bell said.
The Elegba Folklore Society held its Juneteenth event online this year because of the coronavirus. It received about 7,000 views, Ms. Bell said, although the in-person event typically is much larger and has international influence.
As calls for police reform and social justice increase and more attention is being drawn to the racial disparities across America, Ms. Bell views the legislation making Juneteenth a state holiday as "a step toward equity."
It's "a symbolic step," she said, "but a step nonetheless."