Online sessions to highlight Weekend of Mourning on Oct. 23 and 24
George Copeland Jr. | 10/22/2020, 6 p.m.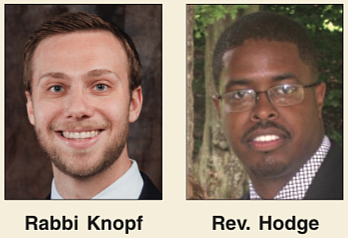 With gun violence occurring regularly in Richmond, members of Richmonders Involved to Strengthen Our Communities, or RISC, are collaborating with Temple Beth-El for a two-day Weekend of Mourning to reflect on the lives lost, pray for those affected and to call for meaningful action by city leaders.
The sessions will be streamed from 6 to 7 p.m. on Friday, Oct. 23, and from 10 a.m. to noon Saturday, Oct. 24, over Zoom and on Temple Beth-El's YouTube channel, TBE Richmond.
Saturday's session is to include a sermon dialogue between Temple Beth-El Rabbi Michael Rose Knopf and Rabbi Aryeh Cohen on gun violence. Rabbi Cohen is a professor to Rabbinic literature and social justice at the Ziegler School for Rabbinic Studies of the American Jewish University in California and author of "Justice in the City."
The Weekend of Mourning was organized following discussions between members of RISC, which represents 22 Richmond faith organizations, and Mayor Levar M. Stoney on how to best respond to the rise in gun violence in Richmond.
"He's not hearing the cries of the people of Richmond that we need to do something about this violence," said Kristin Gorin of Temple Beth-El during an early October news conference. "Our children are unsafe. Our children are being traumatized. Our community is being traumatized."
Police Chief Gerald M. Smith said in a recent public report that homicides in the city rose 60 percent between July 1 and Sept. 30 compared with the same period last year. There were 24 homicides this year during that period, while there were 15 in 2019 during the same three months.
As of Oct. 20, there have been a total of 52 homicides in the city in 2020, compared to 51 during the same time last year, according to police department records.
In an August meeting with Mayor Stoney, RISC members advocated for a Group Violence Intervention program that focuses on identifying the core group committing crimes and providing resources and opportunities to mitigate the causes that lead them to crime and gun violence.
As part of their proposal, RISC asked Mayor Stoney to allocate $70,000 for a six-month introductory period in which consultants would help the city develop a plan that would best fit the city's needs.
Roughly a month after the meeting, Mayor Stoney informed RISC that he was opting to create an original program that would use aspects of the GVI program and two others discussed, Advance Peace and Cure Violence, according to RISC members.
RISC members are concerned whether the mayor's approach will actually address the crisis. Details on what local experts, if any, would be used to develop the program and its timeline are unclear, RISC members said.
These programs are "designed to be done in a certain way to get the exact kind of results you want, which is a reduction in gun violence," said the Rev. Ralph Hodge, senior pastor of Second Baptist Church of South Richmond and a RISC member. He said that RISC had discussed the mayor's plan with the creators of the programs. "We don't think what the mayor is proposing is going to be successful," he said.
Rev. Hodge said that, in addition to allowing the community to remember the victims of gun violence and their families, the Weekend of Mourning will allow those seeking a solution to this spike in gun violence "to pause and recharge ourselves and continue the fight."
Instructions to access both video streams are available at www.bethel-richmond.org/services.