Mark R. Warner for U.S. Senate
10/29/2020, 6 p.m.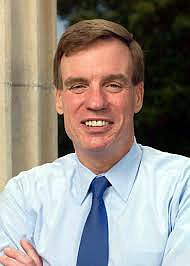 U.S. Sen. Mark R. Warner has served the people of Virginia aptly and ably since first being elected to the Senate in November 2008. He has kept fidelity to our community since he was governor of Virginia from 2002 to 2006.
He supports and will try to protect the Affordable Care Act, which has allowed millions of Americans to have health insurance coverage even with pre-existing health conditions. And he supports the federal Justice and Police Act to ban chokeholds and no-knock warrants that have caused the deaths of people of color at the hands of police.
Earlier this year, Sen. Warner joined Sens. Kamala Harris, Cory Booker and Chuck Schumer to introduce the Jobs and Neighborhood Investment Act that would pump $17.9 billion into low-income and minority communities especially hard-hit by the COVID-19 crisis. It would, in part, target people in need and provide for investment in Black banks and Black businesses to help minority communities recover from the pandemic.
On Monday night, he voted against the U.S. Supreme Court confirmation of Judge Amy Coney Barrett, who threatens to roll back many of the civil rights, women's rights, LGBTQ rights, voting rights and other justice safeguards that have been put in place in the last decades.
As vice chair of the Senate Intelligence Committee, Sen. Warner helped lead the investigation of Russian interference in the 2016 presidential election. He also has worked to investigate and set up protections against cybersecurity threats and ensure the integrity of future U.S. elections.
He has worked hard on veterans issues, including efforts to help prevent suicide among veterans and to support and grow university law school programs that provide legal assistance to veterans.
He also championed the Great American Outdoors Act, signed into law in early August, that brings billions of dollars in new federal invest- ment in national parks, forests, wildlife refuges and recreation areas to help address maintenance backlogs, create new jobs and stimulate local economies that rely on outdoor tourism. The measure also per- manently funds the Land and Water Conservation Fund that provides states and local communities with technical assistance and funding to help preserve and protect public lands.
We endorse his bid for re-election to another six-year term in the U.S. Senate.