Athlete power: 'Shut up and play' is tossed from the game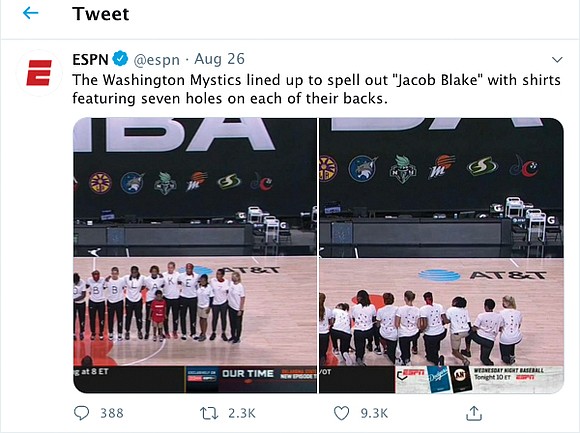 The sports world came to a halt last week as leagues postponed professional men's and women's basketball games, football practices, soccer matches, baseball games, hockey playoffs and tennis competitions as players protested the shooting of a Black man by police in Kenosha, Wis.
It was an unprecedented move that got the world's attention as athletes began to realize their own power.
With every get-out-the-vote campaign, every shutdown of a major sport, every detailed list of actions by athletes demanding change, one new reality comes into sharper focus: The days of "shut up and play" are winding down.
This summer of police shootings of Black people — the aftershocks exacerbated by a coronavirus pandemic that has upended life everywhere — has emboldened athletes to draw on the platform they've long commanded.
One big difference between now and even a year ago is that there's less indecisiveness on how hard those athletes will press the issues. And to some, the odds seem greater, this time, that what the athletes are calling for might actually come to pass.
"None of us are politicians," said NFL veteran Marcedes Lewis, an outspoken tight end who plays for Green Bay, which is in the same state where Jacob Blake was shot in the back and paralyzed by police on Aug. 23 as three of his children looked on. "We get paid to go out there and play and do our job. At the same time, wrong is wrong and right is right. It's encouraging to see guys stepping up."
In tennis, golf, hockey, baseball, basketball, soccer and football, there have been gestures big and small, and in ways once unimaginable. Even among college athletes, there has been a ripple effect. University of Oklahoma players and coaches did not practice late last week, but instead marched around campus together. And according to lineman Creed Humphrey, the entire team registered to vote last Friday.
The unprecedented move began when the Milwaukee Bucks refused to play their Aug. 26 playoff game against the Orlando Magic following the shooting of Mr. Blake.
"There has been no action, so our focus today cannot be on basketball," said Bucks guard Ster- ling Brown, who joined teammate George Hill in reading a statement on the team's behalf. Brown has a federal lawsuit pending against the city of Milwaukee alleging he was targeted because he was Black and that his civil rights were violated in January 2018 when officers used a stun gun on him after a parking violation.
The statement by the Bucks also called for state lawmakers to reconvene and take immediate action "to address issues of police accountability, brutality, and criminal justice reform."
"I couldn't agree more. Thank you, Bucks," Wisconsin Gov. Tony Evers tweeted.
The Bucks' action was quickly followed by players from five other NBA teams, then WNBA teams, Major League Baseball, Major League Soccer and tennis in a snowballing boycott as players decided the best way to use their plat-form and demand change was to literally step off the playing surface.