Paging Dr. Webb
Political cards lined up for young, Black M.D.-J.D. from Charlottesville
Reginald Stuart | 9/10/2020, 6 p.m.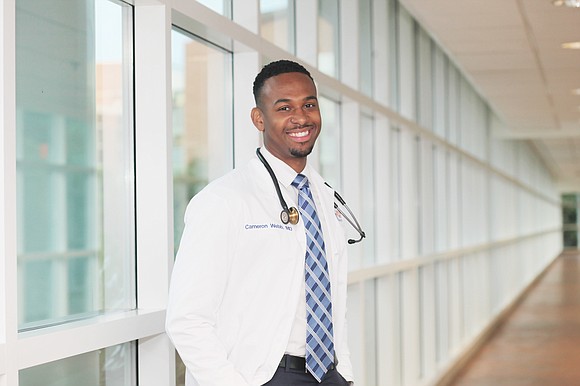 This time a year ago, Dr. Cameron Webb of Charlottesville had no idea he would be among the top contenders this fall for election to the U.S. House of Representatives.
The 37-year-old Democrat, a former White House Fellow and physician at the University of Virginia Health System who holds both a medical degree and a law degree, is running in Virginia's 5th Congressional District centered in the Piedmont region.
The district, which encompasses an area with more square miles than the state of New Jersey, stretches for more than 200 miles from Fauquier County in Northern Virginia through 21 counties and the cities of Charlottesville and Danville to the North Carolina border.
At a time when public health policy is front and center on the national agenda along with unrest over police brutality and racial inequality, Dr. Webb is ready for the Nov. 3 political contest.
Squeezed in between his work as a hospitalist, including treating patients with COVID-19, and helping organize and conduct coronavirus mitigation efforts, Dr. Webb won a four-way Democratic primary election in late June.
He was a White House Fellow in 2016-17, serving on the health care policy team during the final months of the Obama administration and the first months of the Trump administration. He also worked on criminal justice reform, education and workforce issues through President Obama's My Brother's Keeper initiative.
That experience, he said, gave him valuable insight in "learning just how powerful the levers are."
He said his compassion for people and his professional credentials have prepared him to serve as an effective advocate in Washington.
"I think it's the right time to have a voice like mine in these conversations," he said.
He has the endorsement of a growing number of public inter- est groups, labor leaders and established politicians, including U.S. Sen. Kamala Harris, Democratic presidential nominee Joe Biden's vice presidential running mate.
If elected, Dr. Webb would become the first Black physi- cian elected to the House of Representatives, according to the Congressional Research Service.
A native of Spotsylvania County, Dr. Webb earned his bach- elor's degree from U.Va., his medical degree from Wake Forest University and his law degree and health law certificate from Loyola University in Chicago.
Following the fellowship, he and his wife, Leigh-Ann, an emergency services doctor, moved to Charlottesville where they joined the U.Va. medical school staff. In addition to his work as a hospitalist, he is an assistant professor of medicine and public health science and serves as director of health policy and equity, focusing on the needs of underserved and marginalized communities.
Dr. Webb recalled that he and his wife and two children arrived in Charlottesville a week after the August 2017 violent protests and tragic death of 32-year-old Heather Heyer, who was killed by an avowed white supremacist who drove his car into a crowd of counterprotesters during the neo-Nazi "Unite the Right" rally. The turmoil left many unsettled in the usually peaceful community.
If there were second thoughts about the decision to move to Charlottesville given the shattered peace, it did not prompt the couple to abandon course.