First Baptist Church launches 200th anniversary celebration
9/17/2020, 6 p.m.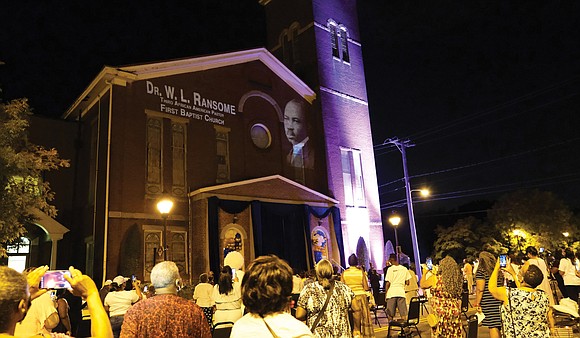 Last Sunday nearly 300 people attended the Grand Illumination at First Baptist Church of South Richmond, a celebration kicking off a yearlong commemoration of the church's bicentennial.
The steeple of the church at 1501 Decatur St. was illuminated and visible from points around the Manchester area. In addition, the evening program included a light show on the church's exterior featuring the five pastors who have led the church since the Civil War – Rev. Richard Wells, Dr. Anthony Binga Jr., Dr. W.L. Ransome and the current senior pastor, Dr. Dwight C. Jones, and his son and pastor, Dr. Derik E. Jones.
One of the oldest Black churches in the city, First Baptist was started by free Black people in 1821 and was known as The African Church of Manchester until just after the Civil War. The church has grown to a congregation of about 3,000 members and has a satellite sanctuary at 6201 Ironbridge Road in Chesterfield County that opened in 2016.
People were socially distanced and wore masks at the outdoor event that included music, speakers and special guests. The church's bell tower also was revitalized for the celebration, with the bells pealing during the ceremony. They will continue to ring daily, officials said. Dr. Dwight Jones, a former Richmond mayor and member of the state House of Delegates, has led the church for 47 years.