Your vote, your voice
9/17/2020, 6 p.m.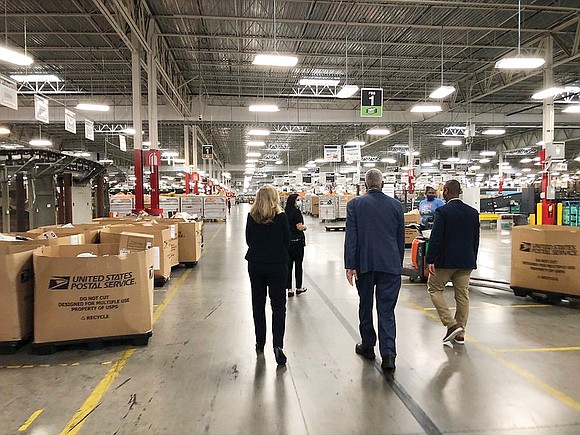 With each election, we urge our readers to vote.
This year, however, holds even greater urgency for people to register to vote and cast a ballot in the election for president, U.S. Senate, con- gressional races and local government and School Board contests.
The fate of our nation – and our very democracy – depends on your vote.
How do we know?
The current occupant of the White House blatantly continues his efforts to impede the election not only by his rhetoric, but also by his actions to hamper the U.S. Postal Service at a time when millions of people are expected to cast ballots by mail because of the pandemic.
We urge Virginians not to be obstructed or detoured by the Manipulator- in-Chief, who wants nothing more than for people to fail to vote.
Early voting begins in the Commonwealth this Friday, Sept. 18. And based on reports from Gov. Ralph S. Northam and other officials, it seems all systems – including the U.S. Postal Service – are ready to go.
With early voting, people don't have to wait until Tuesday, Nov. 3, to go to the polls to vote. Beginning Friday, specific locations in each city and county will be open for people to go in-person to cast their ballots.
In Richmond, voters can go in person to the new Richmond Voter Registrar's Office at 2134 W. Laburnum Ave. in North Side to cast a ballot. Two additional satellite locations will be open for early voting in late October.
In Henrico, early in-person voting will be available at the county government centers in both the Eastern and Western parts of the county beginning Friday. Saturday hours will be added in October.
In Chesterfield, voters can cast ballots early at the county Voter Registrar's Office on Lori Road. Four additional locations will be open for early voting beginning in mid-October.
In Hanover, early in-person voting will be available at the county government complex, with Saturday voting added in late October.
We understand that for many reasons, some people can't cast ballots in person or don't feel safe or comfortable going in person to vote during the coronavirus pandemic. They can cast absentee ballots by mail.
In a news conference earlier this week, Gov. Northam offered assurances that voting by mail is safe, and that the state has put in place security measures to ensure the integrity of this important election.
So far, 790,000 requests have been received for absentee ballots by mail for this election, the governor noted. By comparison, during the 2016 presidential election, a total of 566,000 votes were cast absentee, he said.
Gov. Northam said he expects the demand for absentee, mail-in ballots will continue to grow.
The deadline to request an absentee ballot is Friday, Oct. 23. In this election, Virginia voters no longer need to provide a reason or excuse as to why they need an absentee ballot.
Absentee ballots will start going out to voters who requested them on Friday, officials said.
We believe a new online tracking system instituted by the state will help Virginians feel more secure about voting by mail. The Virginia Department of Elections has a "citizen portal" that shows when an absentee ballot request has been received, when a ballot has been sent to the voter and when the ballot has been received by a local election office. That information is available through the Virginia Department of Elections' website at www.elections.virginia.gov.
Last week, U.S. Reps. A. Donald McEachin of Richmond and Abigail Spanberger of Henrico toured the U.S. Postal Service Richmond Processing and Distribution Center in Sandston. They also met with employees to discuss recent changes instituted by President Trump's crony, U.S. Postmaster General Louis DeJoy, to slow down the mail and to learn how the Sandston distribution center plans to handle the increased mail volume this fall related to the election.
Rep. McEachin told the Free Press after the tour that he has "every confidence" the Sandston facility will be able to handle the expected election-related mail volume. He said the facility has the capacity to handle 2 million pieces of mail per day. The current volume, he said, is about 800,000 pieces per day.
We give Rep. McEachin and Rep. Spanberger kudos for supporting the Delivering for America Act, which recently passed the U.S. House of Representatives and would reverse the detrimental changes implemented by Mr. DeJoy, including removing mailboxes, eliminating mail sorting machines and curtailing overtime for USPS employees. All of these tactics have resulted in mail delivery delays in Virginia and elsewhere.
Ironically, the USPS sent out a mailer this week to households across the area urging people to "plan ahead" if they intend to vote by mail. The mailer urges people to "start today," stating, "Give yourself and your election officials ample time" in the process to mail in absentee ballot requests, to receive ballots and to return them before the deadline.
Most localities also are setting up secure drop boxes where voters can drop off their completed absentee ballots.
Contact the Virginia Department of Elections, www.elections.virginia.gov or (800) 552-9745, for details on early in-person voting, voting by mail, requesting an absentee ballot and acceptable forms of ID to vote.
We note with some concern that employees of the Richmond Voter Registrar's Office provided incorrect information about early in-person voting during each of three separate phone inquiries the Richmond Free Press made to the office during the past two weeks.
We hope city Voter Registrar Kirk Showalter, as well as registrars across the area, will quickly provide adequate training to employees so that correct information is disseminated to voters. This election is too critical to leave any chance for error or for discouraging people from voting.
If you are not registered to vote, you have until Tuesday, Oct. 13, to register to be able to vote in this election.
If you are registered, vote early — either in person or by mail. Don't wait.
Your vote is your voice.
Use it to help change the direction of our country.