First day of early voting draws hundreds to city registrar's new office
George Copeland Jr. | 9/24/2020, 6 p.m.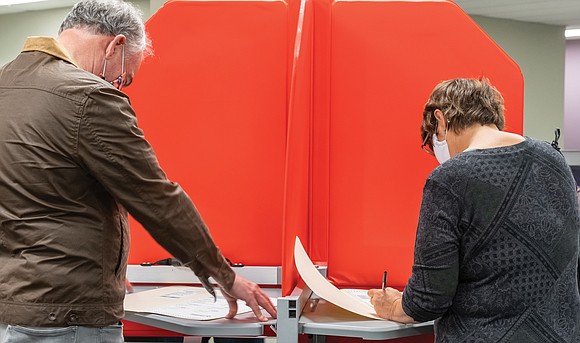 West Laburnum Avenue was buzzing with activity last Friday as roughly 700 people arrived throughout the day at the Richmond Voter Registrar's Office to cast ballots on the first day of early voting in Virginia.
People regularly filed in and out of the new headquarters for the city registrar that opened in North Side in early September. Numerous campaign signs for presidential and state and lo- cal candidates dotted the area around the parking lot.
Inside the building, voters were greeted with floor markers reminding of social distancing, an upbeat staff checking voters' IDs and distributing ballots from behind safety screens and voting booths that were immediately cleaned after each use to ensure health and safety for all.
Special parking spots were set aside for curbside voting for elderly and disabled voters who were aided by members of the registrar's staff.
"Curbside — you can't get any more convenient," said Joyce Banks, a retired teacher who had driven her 95-year-old father, George A. Banks Sr., to the office so he could vote from the safety of her vehicle.
"We are here to voice our concern for the need for change in the administration," Ms. Banks said. "This one is the most important election of my lifetime."
The day marked the first time Virginia voters have been able to vote early in an election, without having to offer an excuse for an absentee ballot. It also served as the culmination of months of efforts by local and state officials and advocacy groups to ensure a safe and accessible general election in the midst of the coronavirus pandemic and federal disruptions to the U.S. Postal Service that threatened to hamper the timely return of mailed-in ballots.
Voting locations throughout Virginia saw lines of hundreds of socially distanced citizens on the first day, with voters weathering long wait times in Northern Virginia and rainy skies in Virginia Beach to cast their ballots.
According to Richmond Voter Registrar Kirk Showalter, only the first day saw any lines form to vote, as people waited for the office to open at 8 a.m. on Sept. 18. Ms. Showalter said the first day of early voting went very well, with around 650 to 700 voters daily since then.
Election officials throughout Metro Richmond also reported positive turnout for their
first days of early voting, painting a picture of a smooth electoral process for voters.
In Richmond, the day also was an opportunity for City Council candidates Allan- Charles Chipman and Katherine Jordon to campaign and meet voters outside the building, alongside local representatives for the top of the ballot presidential Democratic ticket of Joe Biden and Kamala Harris.
U.S. Sen. Tim Kaine and his wife, Anne Holton, former state secretary of education, who live in Richmond, arrived early last Friday to vote.
"I really like early voting and I have long supported broadening the access to voting," Sen. Kaine told a small group of reporters outside the building. "The greater the participation, the more true we are to our small 'd' democratic principles. And I think the level of turnout this year is going to be really helpful."
Despite being located past a narrow street nestled between a Richmond railyard and an intersection currently undergoing heavy renovation, Ms. Showalter said voters apparently had no trouble finding the new registrar's office. This ease of access likely was aided by community efforts by New Life Deliverance Tabernacle, Victory Travel and others to get voters to the office.