Illustrator Shannon Wright brings skills to Richmond Folk Festival official poster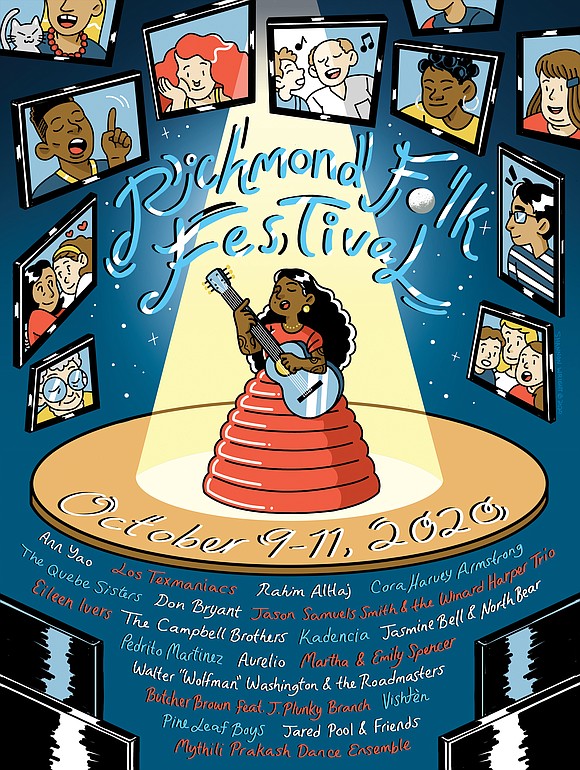 Artist Shannon Wright, an illustrator and cartoonist whose work has been featured in major publications, books and online sites including The New York Times, The Atlantic magazine, The Guardian newspaper in the United Kingdom, Google Doodles and Scholastic, has been commissioned to create the official poster for the 16th Annual Richmond Folk Festival.
The festival, a blend of music, dance and celebration of cultures from across the globe, is going to be a virtual event this year because of the coronavirus. The show will go on Oct. 9 through 11, with radio broadcasts, online streaming and a special television program featuring Virginia artists.
Ms. Wright said she is excited to use her talents to illustrate the music festival that typically draws thousands to Richmond's waterfront. But she acknowledged the task became challenging when the festival changed from an outdoor event to one online.
"Exploring what it looks and feels like to experience a virtual concert, while social distancing, is a major creative challenge," Ms. Wright said. "The process was totally different because I thought I would be illustrating an outdoors event."
She said she explored the use of color and forms to capture the spirit of the festival.
"I still wanted to have the sense of togetherness and experiencing the festival together, despite the fact (people will be) watching on their screens," Ms. Wright said. "I want to keep the poster upbeat and reflective of Richmond's night life, as well as all of the outdoor facilities for entertainment as you witness stars at night."
For that outdoor and upbeat feel, she uses shades of blue with pops of reds and yellows. She said she thought it would be interesting to have performers' presence on the poster, as well as audience members in the frame.
"With the color palette, I made sure the audience's colors reflected the people consuming the music," Ms. Wright said. "It is definitely a diverse group of people – young and old, all races and ethnicities, upbeat and togetherness. I am showcasing them in (physical features) and skin tone."
A native of Spotsylvania, Ms. Wright has lived in Richmond since entering Virginia Commonwealth University in 2012 to study art. She earned her bachelor's degree in communication arts in 2016.
Her love of art and illustration began early. When she was 4, Ms. Wright said she watched cartoons, played video games and read comic books. It was a favorite pastime for her father, Kevin Wright, and her brothers, Travis and Kevin II.
"Art and entertainment were always present in our home," Ms. Wright said. "I was so drawn to both. I thought that I could do this."
She said she loved drawing and would draw all the time.
"I would draw in class and at home. I would draw on everything — sheets of computer paper, a notebook in church. I just couldn't stop."
She marks her first successful exhibit when she was a second-grader. She was selected to do a mural for her elementary school.
At VCU, she cultivated her skills as an illustrator. Her work, "Shared or Stolen: An Examination of Cultural Appropriation," won the 2016 Bobbi Braun Award from the Society of Illustrators.
What's in her future?
Ms. Wright says her dream is to teach art and create her own place for students — and up-and-coming artists — to create comic book work and illustration.
The poster for the 16th Annual Richmond Folk Festival will be on sale online and at Plan 9 Music in Carytown beginning Thursday, Sept. 24.