Virginia Museum of History & Culture to undergo $30M renovation
The Virginia Museum of History & Culture has announced plans for a major $30 million renovation of its facility beginning in October.
The museum is reimagining its current complex of 250,000 square feet, at 428 N. Arthur Ashe Blvd. with the 18-month project that will provide multiple new exhibitions spaces for long-term and changing exhibitions; a new research library with a state-of-the-art rare book and manuscript suite with multiple education and meeting rooms; an immersive orientation theater and interactive learning space for families; and a new café and museum store.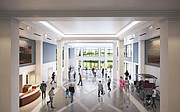 Additionally the renovation will provide multiple new and renewed community and event spaces, including a new great hall, a second floor event terrace and outdoor event lawn, an expanded parking lot and an improved connector to the neighboring Virginia Museum of Fine Arts campus.
"What we have teed up is a fundamental change to this old institution," Jamie Bosket, VMHC president and chief executive officer, told the Free Press in an interview this week.
"The museum will be open in some capacity—very limited capacity—during the renovations and we will continue our new digital programming."
Asked about the museum's plans for new exhibits reflecting the complete history of Richmond and Virginia, including the roles African-Americans, Native Americans and other people of color, Mr. Bosket was direct.
"In 2019, when VMHC opened 'Determined: The 400- Year Struggle for Black Equality,' it was a bit of a turning point for us to really meaningfully expand the narrative to share all stories, particularly Black people's experience locally and beyond in Virginia," Mr. Bosket said. "There will be much more of that."
That exhibit, which was done in commemoration of the 400th anniversary of the arrival of the first enslaved Africans in Virginia, opened the day the museum hosted on its front lawn the ceremony renaming the street on which it is located Arthur Ashe Boulevard in honor of the late Richmond native, tennis great, human rights advocate and philanthropist.
Thousands of people, including elected officials and members of Mr. Ashe's family, attended for the ceremony that featured the late U.S. Rep. John Lewis of Georgia as the keynote speaker.
Following the ceremony, hundreds of people toured the exhibit that traced the many ways Black people have shaped American history through their fight for freedom, equality and justice.
According to Mr. Bosket, VMHC is planning to install long-term exhibitions, including one entitled, "Our Commonwealth," which will have stronger representations of all Virginians.
In a news release, Gov. Ralph S. Northam voiced support for the museum's renovation and future exhibition plans.
"Virginia history is American history, and that history is complex, contradictory and too often untold," the governor stated. "We must keep working to lift up the voices and stories of all those who have shaped it."
Also in a statement, Mayor Levar M. Stoney said, "The VMHC has taken an active role in our Richmond community and has committed to telling a more inclusive and complete history of our Commonwealth, where all Virginians can see themselves in the triumphs and tragedies, the glory and the pain, of our collective story. As America reckons with its past, present and future, I can't think of a more consequential time for the reinvention of this vital institution."
Construction will begin in early October and is expected to be completed in early 2022.
A grand reopening is scheduled for the spring of 2022.
While portions of the museum will remain open to the public throughout the renovation, the museum's extensive digital outreach effects and select programming will continue without interruption, officials said.