Virtual Emmy Awards ceremony has history-making wins and social messages
Reuters | 9/24/2020, 6 p.m.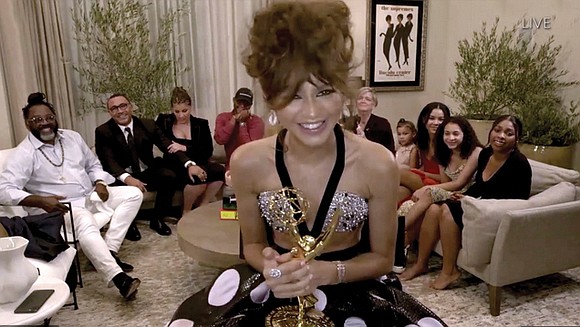 LOS ANGELES - It was a virtual night of glamour for some, go-as-you-are for others, social justice messaging and family affairs.
It was the annual Emmy Awards ceremony, hosted by Jimmy Kimmel and broadcast on ABC television Sunday night. But because of the pandemic, it was all virtual, with no live audience of stars. Instead, more than 100 cameras were deployed at homes and celebrations being staged elsewhere by nominees so that winners could accept their award in real time.
And of course, things sometimes went wrong.
Ron Cephas Jones' guest actor award for "This Is Us" was announced for another nominee, Jason Bateman.
The error occurred during Saturday's online creative arts Emmys, a precursor to Sunday's main ceremony and the culmination of a week of events honoring technical and other achievements.
Last Saturday's show on FXX, however, was the only one of the creative arts presentations to be televised, making the error more glaring. In a voiceover announcement, Mr. Bateman was declared the winner for his guest appearance on HBO's "The Outsider," while the screen displayed Mr. Jones' name.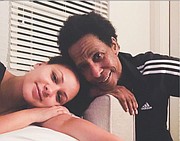 Mr. Jones was good-natured about the mistake when he fielded questions virtually afterward. He focused instead on his second Emmy for "This Is Us" and especially on his daughter, actor-singer Jasmine Cephas Jones.
He expressed delight when learning that the pair made Emmy history as the first father and daughter to win in the same year. Her short-form series acting trophy came earlier in the week for Quibi's "#FreeRayshawn."
"My heart just explodes when I think about her and watch her and the success that she's had," he said.
Other winners Saturday included Eddie Murphy, whose return to "Saturday Night Live" after more than three decades earned the star his first Emmy Award, for guest comedy series actor.
Maya Rudolph claimed the category's guest actress trophy for her portrayal of U.S. Sen. Kamala Harris, two days after claiming a voice-over performance Emmy for "Big Mouth."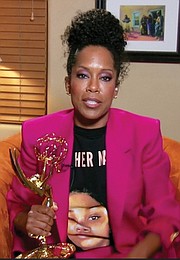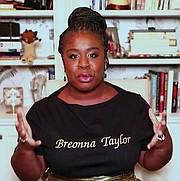 Cherry Jones won the guest drama actress trophy for "Succession."
During Sunday's ceremony, several Emmy winners, including Regina King and Uzo Aduba, highlighted the national struggle for social justice.
Both actresses wore T-shirts featuring Breonna Taylor, the 26- year-old EMT from Louisville, Ky., who was shot and killed by police in March during a late-night raid of her home. Ms. King's T-shirt featured Ms. Taylor's face.
Ms. King won for actress in a limited series or a TV movie as the masked hero in HBO's "Watchmen."
"I loved when I saw her shirt and standing in it with such strength and power, which we all know she has," said Ms.
Aduba, winner for supporting actress in a limited series or TV movie for "Mrs. America" in which she played the late New York Congresswoman Shirley Chisholm.
Damon Lindelof wore a black T-shirt with "Remember Tulsa '21" in yellow letters while accepting the Emmy for limited series writing for "Watchmen." Cord Jefferson, who is Black and shared the award, and Mr.Lindelof stood in front of a banner reading "Give a Damn" that was hung from a fireplace mantle.
Mr. Lindelof, who is white, was drawing attention to the race riot in Tulsa, Okla., that occurred after white residents, many of them deputized and given weapons, attacked Black residents and businesses in the city. Mr. Jefferson called it "the original sin of our show."
Meanwhile, 24-year-old Zendaya became emotional after she took home the trophy for her role in the HBO series, "Euphoria," scoring one of the few long shot victories Sunday night. She is the youngest actress and only the second Black actress to claim the lead drama actress award, following Viola Davis' groundbreaking 2015 win for "How To Get Away With Murder."