Vaccine efforts surge with 100,000th dose given at Richmond Raceway
George Copeland Jr. | 4/8/2021, 6 p.m.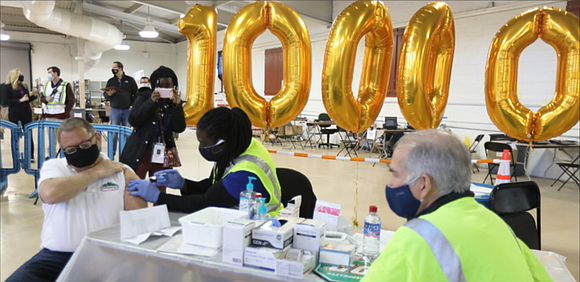 For Antwon Agee, the 34-year-old Richmond nurse expected a routine couple of hours last Saturday helping the Richmond and Henrico County health districts vaccinate people at Richmond Raceway, as he has for the last month.
For Tom Leonard, owner of Tom Leonard's Farmer's Market, he expected to be just one of many people age 65 or older who would get their second vaccine dose. It would the final dose of protection against a virus that has claimed some of his friends in Connecticut and New York and that led to sweeping changes at his store.
But Saturday wasn't any normal day.
Mr. Agee found himself administering the raceway clinic's 100,000th vaccine dose — to Mr. Leonard — a landmark in the area fight against the pandemic.
"I'm very grateful to be here to have my second shot," Mr. Leonard said following his vaccination. "I'm pretty excited about this."
Mr. Agee was surprised at being selected to handle the inoculation, but was more than happy to take on the role as a way to help vaccination efforts and as a sign of the trust shown by local health officials to choose him to administer the dose.
"It felt great getting a little recognition for helping the community," Mr. Agee said. "I'm just really appreciative that they chose me to give the 100,000th dose."
Saturday's mass vaccination clinic was set to vaccinate 6,000 people across two events held at the raceway that day, according to Zach Zellner, incident commander of all vaccination efforts at Richmond Raceway.
The landmark dose is a major sign of how the operation has grown in the last two months the site has been used for mass clinics run by the Richmond and Henrico health districts. It also comes at a moment of transition for vaccination efforts in Virginia, as the state prepares to expand vaccine eligibility to all adults on April 18.
The 100,000th dose wasn't the only notable event Saturday. The Richmond and Henrico health districts held their first drive-thru clinic for people with disabilities and their caregivers at the Virginia Department of Wildlife Resources' office near St. Joseph's Villa in Henrico County.
According to Joanna Cirillo, a public health nurse supervisor for the health districts and their operations chief for COVID-19, the clinic was organized weeks earlier with the aid of several local organizations, including SOAR365 and Resources for Independent Living. The goal was to provide an avenue for vaccination that would avoid any potential issues individuals with disabilities may face at other clinics.
In total, 130 people pre-registered and, with favorable weather and a supply of Johnson & Johnson's one-shot vaccine, the health districts' "pit crew" approach to vaccinating people in their cars and vehicles proved to be a smooth operation.
"This is perfect because some of our participants might be in a wheelchair, or there might be behavioral issues or mobility issues," said Sharon Yates, a registered nurse with SOAR365. "So for them to come here and they don't have to get out of their car has just been wonderful."
Shanna Jones went to the drive-thru clinic with her fiancé, Terrell Whitehead, so they could be vaccinated along with her son, Shakur "Dre" Spells, 25, who has autism.
Sitting in their car following their injections, the three were calm and collected as they waited out any side effects. It was a tranquil moment for a family that has experienced some unease during this time. Ms. Jones' 14-year-old daughter briefly had the virus. She is too young to be vaccinated.
Ms. Jones admitted she initially was hesitant to get the vaccine and had turned down earlier opportunities for her son and family to be inoculated. But the more she researched vaccines, the more her fear subsided, she said.
"I'm a lot more confident," Ms. Jones said. "It was important for me to protect" her son. "And that means protecting us to protect him."