Cardinal Elementary School officially dedicated
Ronald E. Carrington | 8/19/2021, 6 p.m. | Updated on 8/25/2021, 11:15 a.m.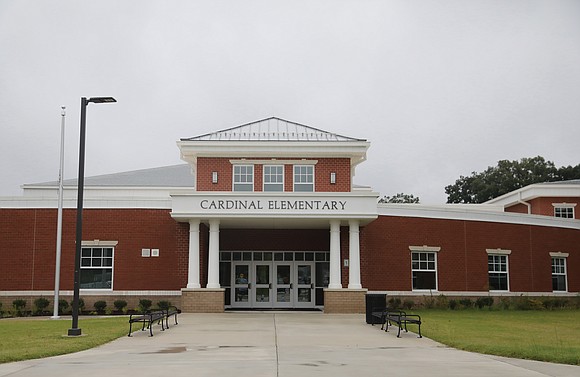 It was a monumental moment Monday as the ribbon was cut officially opening Cardinal Elementary School in South Side.
The $42.5 million school is one of three of Richmond's newest public schools whose opening to students for in-person learning was delayed because of the COVID-19 pandemic.
Located at 1745 Catalina Drive where it replaced E.S.H. Greene Elementary, Cardinal Elementary will be the new home of 900 students this fall, 89 percent of whom are from foreign countries, according to Principal Juvenal E. Abrego-Meneses, who is from Panama.
"Cardinal Elementary is a United Nations," said Dr. Abrego-Meneses. "We have students from Mexico and Guatemala, Honduras and El Salvador, Ghana and South Africa, Afghanistan and other Middle East countries."
Parents, public officials, students and someone dressed as the school mascot gathered in the gymnatorium, wearing masks and social distancing, for the official grand opening Monday morning.
Five students welcomed the group as they did an interpretative performance of the school's song read by Dr. Abrego-Meneses. The third-graders also closed the celebration by using a huge pair of scissors to cut a bright red ribbon to officially dedicate the building, which can hold 1,100 students.
Keynote speaker Elizabeth Solano, RPS community site coordinator for the school, noted that Cardinal Elementary is a very special place with a heart and soul, just like its predecessor, Greene Elementary.
For many students, this is the first time they have ever dealt with a school system, Ms. Solano said, with many the first in their family to attend a public school.
"This makes the experience very challenging, with possible anxiety for families," Ms. Solano noted. "However, this is the Disneyland of South Side, where all are encouraged to dream big—building their resilience skills with the support of caring adults. Achieve academic excellence. Above all, develop a sense of belonging and worth, regardless of gender or age, race or ethnicity, status or language they speak," she said.
School Board member Nicole Jones, 9th District, has an additional new school in her district—River City Middle School, which held orientation sessions by grade level Tuesday through Thursday and is having a "Back To School Party" with food and music at 5 p.m. Sept. 2 for students to pick up their schedules and parents and students to meet teachers.
With Cardinal Elementary, Ms. Jones is witnessing the behind-the-scenes of opening a new facility. Elected to the School Board last November, she has voted with the minority of board members who want to collaborate with the city on the construction of a new George Wythe High School.
"This is a well-thought-out, intentional, student-focused process," she told the Free Press Monday. "It is good to know the School Board members before me were an integral and active part of the process to get these schools built."
Delegate Betsy B. Carr, who represents the area in the House of Delegates and formerly served on the Richmond School Board from 2006 through 2010, recalled E.S.H.Greene Elementary as one of the schools that was in sore need of replacement in 2010.
"I am so happy we have a Cardinal Elementary now. It is such a beautiful facility," Delegate Carr said.
After the celebration, School Board Chairwoman Cheryl Burke said she was on cloud nine.
"This is what it's all about," Ms. Burke said. "To have a new school should not be a dream. This should be a given," said Ms. Burke, who has voted with the board minority to collaborate with the City of Richmond on the design and construction of a new George Wythe High School to speed up the process.
"This school, as well as the other two new schools, are a result of a collaborative effort between the district and the city," she said. "This shows what collaboration and consensus can do as we sit down together and work for the best interest of all students in our city."