'Skill games' back in business in convenience stores, truck stops statewide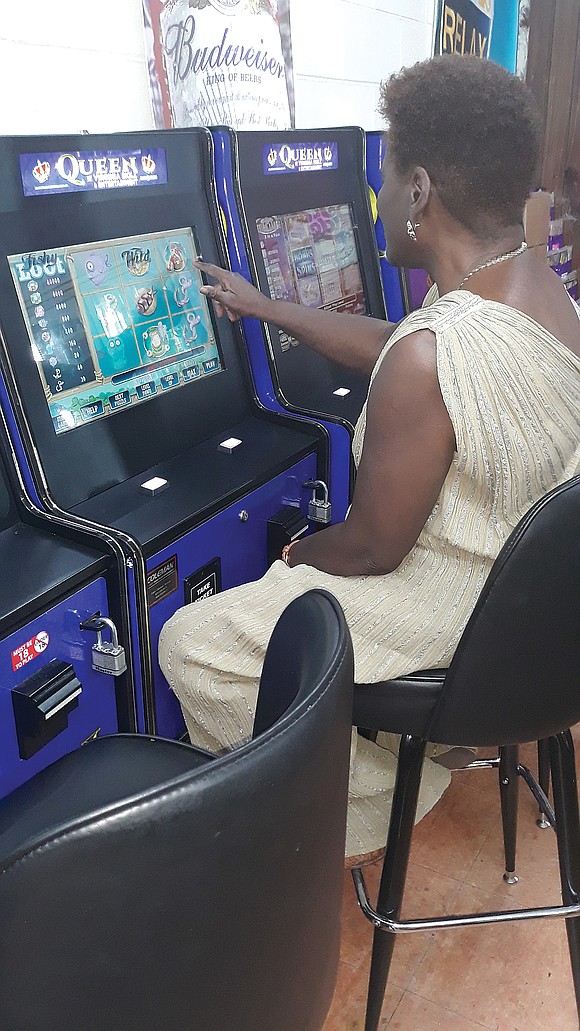 "Skill games" are suddenly legal again.
Those are the slot machine-style games that were mainstays of convenience stores and truck stops until the General Assembly banned them on July 1.
On Monday, a Virginia judge temporarily barred the state from enforcing the ban, allowing store owners in Richmond and across the state to turn on thousands of machines in their stores.
The ruling from Circuit Court Judge Louis Lerner was a victory for Emporia native Hermie Sadler, a NASCAR driver, race announcer, wrestling promotor and co-owner of an oil business that operates truck stops that offered the games.
Attorney General Mark R. Herring has yet to say whether his office will ask the Virginia Supreme Court to reject Judge Lerner's temporary injunction and find the legislature and governor had full authority to approve or eliminate the games.
At this point, the injunction is set to continue until next May, when a hearing is scheduled on whether the injunction should be made permanent.
Two Republican state senators who opposed the ban, Sen. William M. "Bill" Stanley Jr. of Franklin and Sen. Ryan T. McDougle of Hanover County, led the legal fight for Mr. Sadler.
Outside the courtroom, Sen. Stanley called the decision "a great victory" for his client and for small businesses that had been forced to shut down the machines that had provided a significant source of income for their businesses during the pandemic.
Mr. Sadler, who estimated the ban would cost his businesses $750,000 a year, filed suit after the ban was imposed. Across the state, stores owned by Black people, Asians and Latinos were among those said to be particularly hit hard.
In his suit, Mr. Sadler challenged the ban as an unconstitutional attack on one type of gambling at a time when the legislature was allowing virtually all other types of gambling, from the lottery to sports betting and full-blown casinos with slot machines and table games.
Mr. Sadler said in July that he was challenging a decision that unfairly discriminated against certain types of businesses.
"Whether you are for or against the legalization of gambling in Virginia, both the legislature and executive branch have spoken, legalizing the multibillion-dollar industries of sports betting, horse racing, slot machines and casino gambling," he said.
"But inexplicably," he continued, "Virginia has determined that skill games, games that have been legal in the Commonwealth for decades, are now somehow 'undesirable,' and should be made illegal. This action is unfair, and quite frankly, unconstitutional."
In his ruling, Judge Lerner agreed with Mr. Sadler's legal team that the law, as written was "unconstitutionally overbroad and vague" and thus should not stand.
At earlier hearings, Judge Lerner refused to dismiss the Sadler lawsuit and also rejected the request from the Attorney General's Office to move the case to Richmond, whose judges usually hear cases with statewide implications. The case was heard in Greensville Circuit Court.
The legislature's ban on skill games has not stopped different types of games that resemble slot machines from finding a place in convenience stores as the law apparently does not cover them.
The machines affected by the ban re- quired two pushes of a button to generate
a win. Those machines began spreading across the state four years ago. By 2020, thousands of machines were in operation across the state after the Virginia Department of Alcoholic Beverage Control deemed them legal in licensed establishments.
The legislature reacted in 2020 by seeking to ban them after the Virginia Lottery claimed the machines were cutting into its business. But business owners got a one- year reprieve after Gov. Ralph S. Northam asked lawmakers to delay the ban by a year and instead levy a heavy, $1,500-a-month fee on each machine to help pay for the costs of battling COVID-19.
Both the governor and the General Assembly allowed the ban to go into effect during the summer, despite a wave of protests from convenience story owners and after the Virginia Lottery announced record revenue and profits for its operations, which undercut its arguments sup- porting the ban.