Faith leaders issue BHM book challenge to Richmond area residents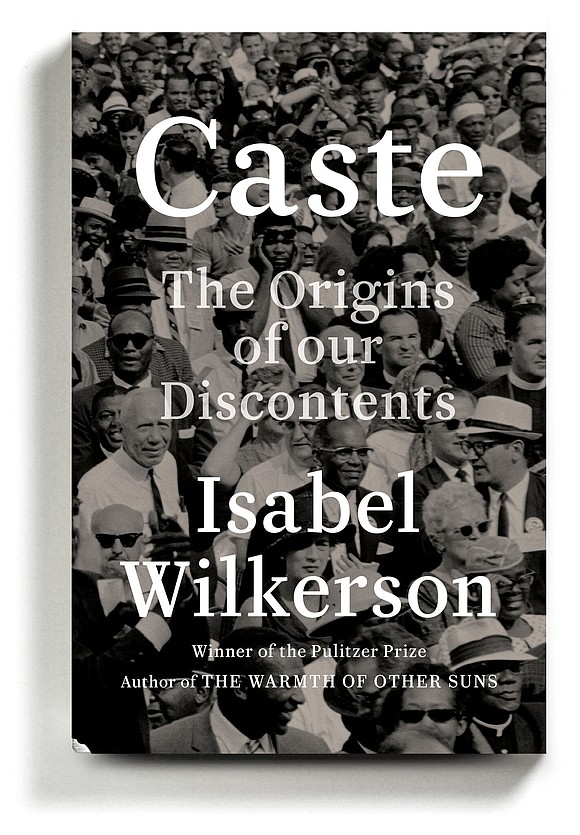 Challenge to Richmond area residents: Spend February reading award-winning journalist Isabel Wilkerson's widely praised book, "Caste: The Origins of Our Discontents," then participate in a Zoom discussion of the book 7 p.m. Monday, March 1.
This Black History Month challenge is coming from two well-known figures in Richmond's faith community — the senior pastor of First Baptist Church on Monument Avenue, Dr. James G. "Jim" Somerville, and Christian musician David M. Bailey, founder and executive director of the Richmond-based racial reconciliation nonprofit Arrabon.
This is the pair's fourth annual reading challenge, and this year's choice, an Oprah Book Club selection, is described as "an instant classic" and a "must read."
"Meaty" is the description that Dr. Somerville uses for Ms. Wilkerson's book that was published in August and already is being touted for literary awards.
He said he came across it while reading a wide range of books and watching documentaries to learn more about the underpinnings of the uproar over racial justice.
The title is drawn from India's caste system and explores how America has created its own caste system, despite the expressions of equality in the Declaration of Independence.
As one reviewer noted, Ms. Wilkerson's book is "about how brutal misperceptions about race have disfigured the American experiment" while also taking a hard look at the class system that is part and parcel of America as well.
Ms. Wilkerson won the Pulitzer Prize for feature writing in 1994 as a reporter for the New York Times. She also won the National Book Critics Circle Award in 2010 for her nonfiction book, "The Warmth of Other Suns: The Epic Story of America' Great Migration," which tells the story of the exodus of almost 6 million African-Americans out of the South to the Northeast, Midwest and West from 1915 to 1970.
Ms. Wilkerson, who is African-American, writes that racial differences and caste differences "can and do coexist in the same culture and serve to reinforce each other. Race, in the United States, is the visible agent of the unseen force of caste. Caste is the bones, race the skin."
"As we go about our daily lives, caste is the wordless usher in a darkened theater, flashlight cast down in the aisles, guiding us to our assigned seats for a performance," she continues.
Her book makes comparisons between India's treatment of its untouchables, or Dalits, Nazi Germany's treatment of Jews and America's treatment of African-Americans, noting that each country "relied on stigmatizing those deemed inferior to justify the dehumanization necessary to keep the lowest-ranked people at the bottom."
Support for the caste system is so ingrained, she wrote, many in this country "are willing to accept short-term discomfort, forgo health insurance, risk contamination of the water and air and even die to protect their long-term interest in the hierarchy as they had known it."
For those who want to join the March 1 discussion, Dr. Somerville said Zoom meeting information would be posted on the First Baptist Church and Arrabon websites at fbcrichmond.org or arrabon.com, and on social media.
Dr. Somerville and Mr. Bailey began issuing an annual challenge in 2018, urging people to read "The Color of Law: A Forgotten History of How Our Government Segregated America" by Richard Rothstein. That book documents the creation of laws governing racial segregation.
In 2019, they urged people to read "Just Mercy: A Story of Justice and Redemption" about wrongful convictions by Bryan Stevenson.
Last year, they promoted "White Fragility: Why It's So Hard for White People to Talk About Racism" by Robin DiAngelo.