Golf without Woods? A possibility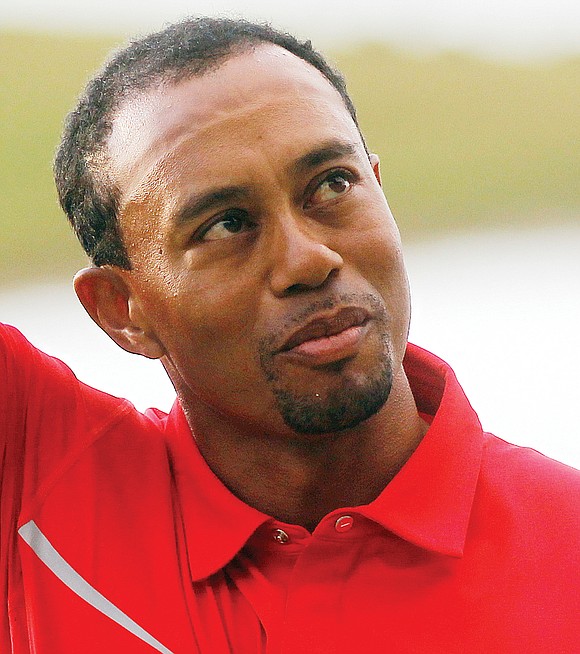 LOS ANGELES - The PGA Tour without Tiger Woods was always inevitable purely because of age. His shattered right leg from his SUV flipping down a hill Tuesday morning on a sweeping road through coastal Los Angeles suburbs only brings that closer.
Golf wasn't ready Wednesday to contemplate the future of its biggest star after the 10th and most complicated surgery on the 45-year-old Woods. There was more relief that he was alive.
"Listen, when Tiger wants to talk about golf, we'll talk about golf," Commissioner Jay Monahan said at the World Golf Cham- pionship in Florida. "When you're going to overcome what he needs to overcome, I think the love of all of our players and everybody out here, it's going to come forward in a big way and across the en- tire sporting world. I think he'll feel that energy and I think that's what we should all focus on."
The Los Angeles County sheriff on Wednesday characterized the crash that seriously injured Mr. Woods as "purely an accident" and appeared to rule out any potential criminal charges even as authori- ties were still investigating.
Deputies did not see any evidence that the golf star was impaired by drugs or alcohol after the rollover wreck on a downhill stretch of road known for crashes, Sheriff Alex Villanueva said.
"He was not drunk," Sheriff Villanueva said during a livestreamed social media event. "We can throw that one out."
The sheriff said investigators may seek search warrants for a blood sample to definitively rule out drugs and alcohol. Detectives also could apply for search warrants for Mr. Woods' cellphone to see if he was driving distracted, as well as the vehicle's event data recorder, or "black box," which would give information about how fast he was going.
Mr. Woods, who had checked into a clinic in 2017 for help dealing with prescription medication, was driving alone through coastal Los Angeles suburbs when his SUV struck a raised median, crossed into oncoming lanes and flipped several times. The crash caused "significant" injuries to his right leg, and he underwent a "long surgical procedure" at Harbor-UCLA Medical Center in Los Angeles, according to a post early Wednesday on the golfer's Twitter account.
Dr. Anish Mahajan, the chief medical officer, said Woods shattered tibia and fibula bones in his right leg in multiple lo- cations. Those were stabilized by a rod in the tibia. He said a combination of screws and pins were used to stabilize additional injuries in the ankle and foot.
"I would say, unfortunately, it's very, very unlikely that he returns to be a professional golfer after these injuries," said Dr. Michael Gardner, chief of orthopedic trauma at Stanford Medical Center. "His age, his multiple back issues, this is going to be a very long road ahead if he chooses to attempt to return to his previous level of golfing."
Mr. Woods was in Los Angeles over the weekend as the tournament host of the Genesis Invitational at Riviera Country Club. Monday and Tuesday had been set aside for him to give golf tips to celebrities on Discovery-owned GOLFTV. Mr. Woods was driving his courtesy vehicle from the Genesis Invitational when he crashed.
The crash this week was the latest setback for Mr. Woods, who at times has looked unstoppable with his 15 major championships and record-tying 82 victories on the PGA Tour. He is among the world's most recognizable sports figures, and at 45, with a reduced schedule from nine previous surgeries, remains golf's biggest draw.
Mr. Woods has had four previous surgeries to repair ligaments on his left knee. This is the first major trauma to the right leg. Woods has had five surgeries on his lower back in the last seven years.