Black Voters Matter brings 'Freedom Ride for Voting Rights' to Richmond
George Copeland Jr. | 7/1/2021, 6 p.m.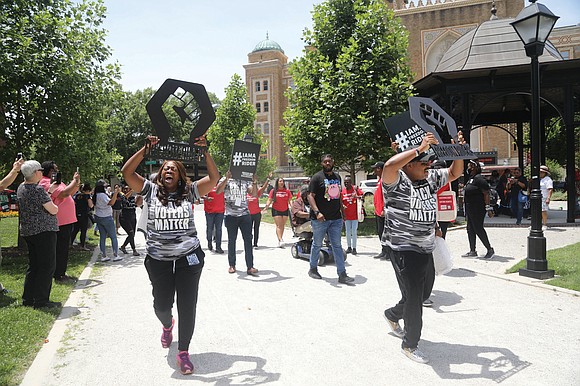 Black Voters Matter brought its "Freedom Ride for Voting Rights" bus caravan to Monroe Park last week, continuing the civil rights efforts of the first Freedom Riders 60 years ago and to push voting access and equity locally and nationally.
Richmond was the seventh stop on an eight-state tour that began in mid-June in Atlanta and ended with a rally in Washington, D.C., last Saturday.
The sounds of speeches and music filled the air as the buses and food trucks lined a perimeter of Monroe Park on June 25.
"Virginia is very similar to some of the other states that we've been in," said Cliff Albright, who co-founded Black Voters Matter in 2016 with LaTosha Brown. He said the organization will seek to address the gap in voter enthusiasm and outreach among cities and counties in Virginia.
"You've got to pull in those parts of the states that oftentimes don't get a lot of attention, and that's one of our specialties," Mr. Albright said. "It's one of our core beliefs that Black voters matter everywhere."
The organization has connected with a number of grassroots organizations in the Commonwealth, such as the Richmond Crusade for Voters, to plan how to expand their work in the state. This would include not just advancing voting rights, but educating the public, providing resources and pushing legislators to sup- port a more progressive vision for Virginia's future.
Virginia's newest laws to expand voter access, which range from early voting on Sundays to removing requirements for witness signatures and maintaining ballot drop boxes initially set up during the pandemic, go into effect Thursday, July 1.
On the national level, efforts to protect and expand voting rights have stalled in Congress, with Republican senators and a few Democrats halting progress. Black Voters Matter and other advocates are working to get the bills passed in the face of efforts in multiple states to restrict or obstruct voter access.
Mr. Albright and Ms. Brown criticized these measures in states including Georgia and Texas as negatively impacting people of color the most.
"Quite frankly, it is voter suppression dressed up in a Jim Crow outfit. That is what we are seeing," Ms. Brown said.
"We need a national standard so that no matter where you live in this country, you have open access to the ballot."
Mr. Albright expressed optimism that the organization's efforts would be a success, pointing to the recent lawsuit launched by the U.S. Justice Department against the state of Georgia's new voter suppression law.
For now, however, Black Voters Matter continues to lay the groundwork in Virginia and across the United States to enhance voter access.
"We never stop building because our goal is not centered around an election cycle," Ms. Brown said. "Our goal is to build power, and that takes consistent, concerted effort over time."