Fulton family receives unexpected blessing of mortgage payoff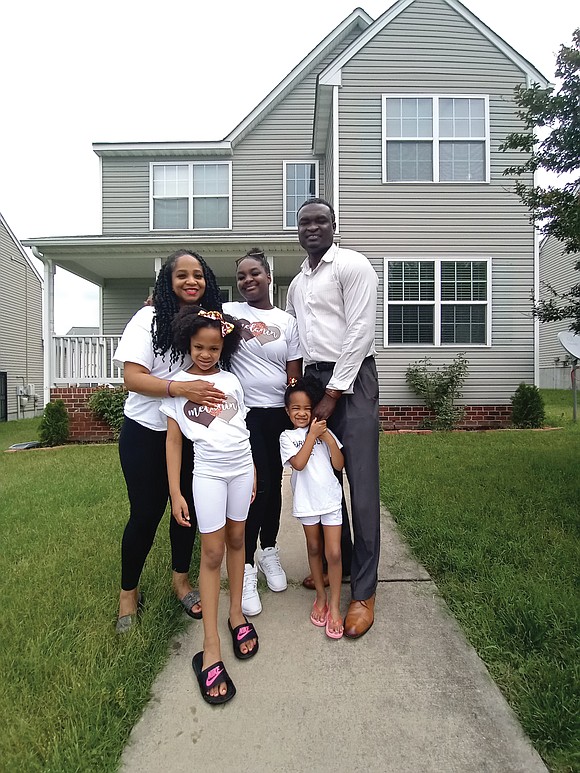 It began as a casual conversation.
Then it quickly turned into what Travis L. and Latarsha F. Woods can only call "a blessing from God."
It happened as the Richmond couple talked with another mem- ber between Sunday services at their Chesterfield County church, Mt. Gilead Full Gospel Interna- tional Ministries.
When the person asked, "What do you believe in God for?" Mr. Woods responded without hesitation, "To pay off our house."
"How much do you owe?" was the rejoinder.
"More than $150,000," Mr. Woods said.
"I'm paying it off," said the person, whose identity is being concealed to ensure requested anonymity.
The Woodses were nearly knocked off their feet by the pros- pect of such a generous gift. For them, it was literally the answer to their long-standing hopes for financial freedom, particularly from the monthly bill that kept them strapped—the mortgage payment on the Fulton home they have owned since 2007.
"We both were overwhelmed," Mrs. Woods said. "It was such a huge blessing."
And it was real.
Mr. Woods said the individual explained that business had been remarkably good during the pandemic, so much so that they had paid off their home. The person also vowed to help others do the same.
As the couple recounted, the person said that while in prayer, the couple's faces kept flashing. The person took that to be confirmation from God that the Woodses were to be the first to benefit, the couple said.
On Tuesday, June 1, just after Memorial Day, the person was as good as their word. The couple collected a cashier's check, took it their lender, Virginia Housing, and paid off the mortgage.
Mr. Woods ran a joyful lap around the agency's parking lot after he presented the check to his surprised loan officer, who, just a few days earlier, was involved in restructuring the Woodses' mortgage to assist them in keeping up with payments. At the time, they were several months in arrears.
The couple still must cover the cost of the homeowners' insurance premium and the real estate taxes, but those are far smaller costs.
By owning their home free and clear, the couple can plan for the future for themselves and their three children, Destiny Grace, 12; Trinity Faith, 7; and Serenity Joy, 4.
Devout Christians, the Woodses have been married for 17 years. They joined Mt. Gilead 10 years ago and believe they will live the prosperous and blessed lives that co-pastors, Bishop Daniel Robertson Jr. and his wife, Elena Robertson, preach about.
They both are active in the church and serve as ministry volunteers to assist people who come forward at services to accept Christ. They also have operated their own nonprofit, Youth Impact, which has held yearly conferences and sought to make a positive impact on teens by linking them to positive programs and which is now joining the fight against human trafficking.
But Mr. Woods said the family has faced difficult financial challenges, particularly after he lost his job in 2014 when Mrs. Woods was seven months pregnant with their second child.
Instead of becoming depressed, he said he prayed and God gave him a vision to go back to school and earn his master's degree in human services.
So he did. He earned his graduate degree from Liberty University while he continued to seek steady work. He said his wife was steadfast in encouraging him.
He said it still took three years to land a permanent position, leaving the family's finances devastated. He said the struggle continued even after he secured a position as a program manager with a City Hall job training and placement program.
Even though working, he said the couple frequently fell behind on the house payment, with foreclosure notices adding to the financial stress.
Mrs. Woods, who took charge of raising and home-schooling the children, did everything she could to help out. Before the pandemic, she worked as a pre-school teacher and behavioral specialist for Richmond Public Schools. She also led an after-school program for RPS called Anoint the Runway that offered dance and modeling instruction for girls.
She recently published an illustrated children's book, "The Melanin Is Poppin' on My Beautiful Brown Skin," which is now available on Amazon. She said she wrote it initially as a poem in response to a question from one of her children. The book is designed to boost self-esteem and confidence.
Mrs. Woods said she joined with illustrator Kayla Eaglin to create the book after realizing that her words could offer encouragement to children worldwide who are raising questions about skin color.
She also markets women's clothing and cosmetics through her online store, L. Woods Boutique Worldwide.
But the money coming in was never enough, the couple said.
The couple remain grateful that when they fell behind on their house payments, Virginia Housing continued to be more interested in helping them get back on track rather than seeking to take the property.
"We've been truly blessed," Mr. Woods said.
Both believe their latest blessing stems from their efforts to follow God's word.
"We have devoted our lives to being faithful and to trying to please God," Mr. Woods said, "and we know this is God's way of saying that he is pleased. This could not have happened without God doing it. With God, all things are possible."