Honoring true trailblazers
7/15/2021, 6 p.m.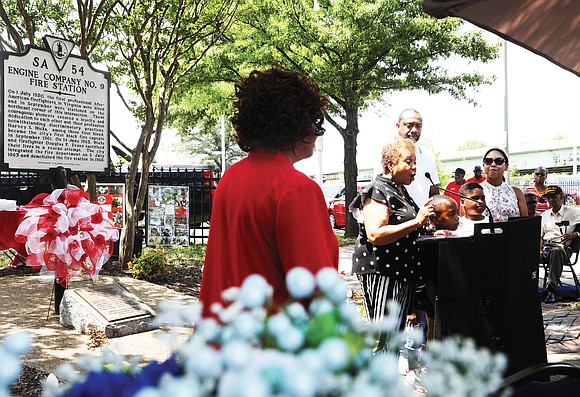 Engine Company No. 9 & Associates celebrated the 71 anniversary of the hiring of the first professional Black firefighters in Virginia. Ten men were hired July 1, 1950, by the City of Richmond and were stationed at Engine Company No. 9 at the corner of 5th and Duval streets. Sundays com- memoration of the historic hiring featured several speakers, including reflections by family of the 10 trailblazers.
Above, Pat Page Whitfield, the daughter of Arthur L. Page, one of the 10 who went on to become a deputy bat- talion chief, addresses the audience. Her family stands with her at the podium.
The other trailblazers were Charles L. Belle, William E. Brown, Douglas P. Evans, Harvey S. Hicks II, Warren W. Kersey, Bernard C. Lewis, Farrar Lucas, Arthur C. St. John
and Linwood M. Wooldridge.
Also attending the ceremony were Fire Chief Melvin D.
Carter, Mayor Levar M. Stoney, City Council President Cynthia I. Newbille and City Council member Ellen Robertson.
The commemoration was held on the site of the former station, which was torn down in 1968, and where a historic marker has been placed.
Above left in red is Betty L. Squire, president of En- gine Company No. 9 and Associates, which organized the event.
A mural by artist Sir James Thornhill honoring the firefighters and the first four Black police officers hired in Richmond is being completed in Jackson Ward. It is to be unveiled during a celebration in early August.