Newly approved $1.9 trillion stimulus package to give boost to families, local economy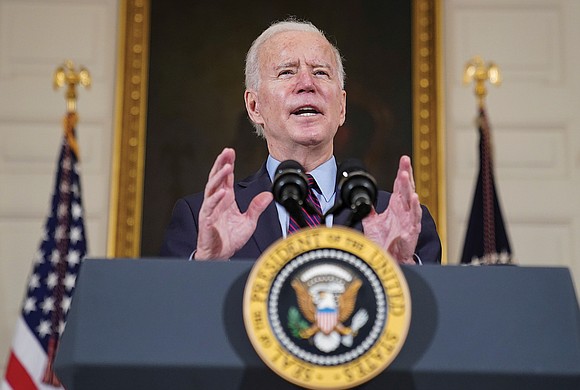 Percy Bell jumped for joy after learning Wednesday the U.S. House of Representatives passed the new stimulus package that provides a new round of direct payments to individuals and families.
"I hoped and hoped, and now $1,400 is coming. I could sure use it," said the Richmond fast food restaurant employee, who is among millions expected to receive the payments. "I'm broke, and this is really going to help."
Mr. Bell is among the many — from school officials and restaurant owners and a host of others — who are gleeful that President Biden's $1.9 trillion economic stimulus bill has cleared Congress and is on its way to his desk to be signed into law.
In Richmond, City Hall officials expect to receive between $145 million and $160 million in federal aid from the bill that provides funding for state and local governments, particularly for housing programs.
Richmond Public Schools is anticipating receiving $30 million to $70 million in new funding from the bill to assist with reopening and will ensure solvency for an array of union pension plans.
The bill also contains $30 billion to support beleaguered restaurants and concert halls in Richmond and across the country — a major infusion for an economic sector that has been hammered by the pandemic.
The massive bill aimed at boosting the economy is the first big victory for the new Biden administration. It cleared the U.S. Senate on Saturday, which like the House, passed it only with Democratic votes.
Progressive Democrats, who wanted an even larger package, accepted the final agreement as a win, despite the Senate shearing off language that would have boosted the minimum wage from $7.25 an hour to $15 an hour.
While a bit smaller than President Biden first sought, the package includes:
• $1,400 for every adult, including students and others left out previously, who earn $75,000 or less per year and married couples making $150,000 or less. The benefits are capped for people making up to $80,000 a year or couples with joint income of $160,000 a year. The stimulus checks are expected to start going out within seven to 10 days of President Biden signing the bill.
• An extension of the $300 a week in unem- ployment benefits through Sept. 6, preventing a cutoff for people who laid off or are struggling to find jobs.
• An expansion of the child tax credit, which will be increased to $3,600 for children under
age 6 and provide $3,000 for those between ages 6 and 17. Some people who have already filed their taxes may need to file amended returns to take advantage of the more generous credit.
• Money to provide 15 percent more in food stamp benefits through September and to increase subsidies for health insurance purchased through the Affordable Care Act.
• $25 billion in rental and utility assistance and another $10 billion in support for those struggling to pay mortgages.
• $20 billion for COVID-19 vaccine manu- facturing and distribution, and $50 billion to enable state and local health departments to beef up testing and contact tracing.
• $350 billion to state, local and tribal governments and $120 billion for K-12 public schools.
• Language to provide a bigger tax credit for companies that retain workers rather than laying them off.
• Provides $86 billion to bailout failing union pension plans and to support veterans' health care.