George Floyd's family wins $27M settlement in civil suit over his death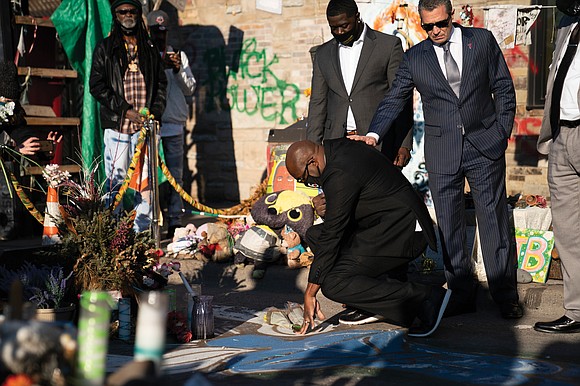 MINNEAPOLIS - The family of George Floyd won a $27 million settlement in a civil lawsuit over his death last year at the hands of a white Minneapolis police officer.
The settlement was announced last Friday as jury selection continued in the murder trial of Derek Chauvin, the former officer accused of killing the 46-year-old Mr. Floyd in May 2020 by kneeling on his neck for almost 9 minutes. Mr. Floyd's final moments, recorded by bystanders on video that went viral, led to nationwide demonstrations against police brutality and racism under the banner Black Lives Matter.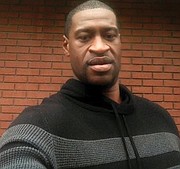 Mr. Chauvin has pleaded not guilty to second degree unintentional murder and second degree manslaughter charges. He also has pleaded not guilty to third degree murder, which was reinstated in the case last week.
The settlement, unanimously approved by the Minneapolis City Council, is the largest pretrial settlement ever for a civil rights claim, according to attorney Benjamin Crump, the Floyd family's attorney. It also surpassed a $20 million settlement the city of Minneapolis approved two years ago for the family of a white woman killed by police.
Mr. Crump thanked city leaders for "showing you care about George Floyd."
"This is just one step on the journey to justice," Mr. Crump said. "This makes a statement that George Floyd deserved better than what we witnessed on May 25, 2020, that George Floyd's life mattered, and that by extension, Black lives matter."
The Floyd family was somber about the settlement during a news conference where they thanked the protesters who supported the family, especially during the height of the pandemic last summer. They were joined by members of their legal team and Minneapolis Mayor Jacob Frey.
Mr. Floyd's brother, Philonise Floyd, said that he would return the settlement millions if it meant he could see his brother again.
"I thank the state of Minnesota for getting this settlement taken care of," he said. "But even though my brother is not here, he's here with me in my heart. If I could get him back, I would give all of this back.
"I know that he's with us, and he's standing up right now knowing that we have the opportunity to be able to fund low-income, African-American communities."
The settlement includes $500,000 for the neighborhood in south Minneapolis where Mr. Floyd was killed. The intersection at 38th and Chicago has been blocked by barricades since Mr. Floyd's death, and a massive metal sculpture and murals have been put up in his honor. Flowers, candles and other memorial items also continue to be placed at the site. The city didn't immediately say how the settlement money would be spent.
Mr. Floyd's family had filed the federal civil rights lawsuit against the city of Minneapolis in July and the four former officers involved in his death. The lawsuit alleged the city fostered a culture of excessive force and impunity within the police force and failed to terminate dangerous officers.
Mayor Frey told reporters the settlement reflects a commitment shared by Mr. Floyd's family toward racial justice and social progress.
Mr. Crump said the settlement is historic not just because of its amount, but also because of the impact on policy and police reforms.
Days after Mr. Floyd's death, the Minneapolis City Council voted to ban chokeholds, require officers to report other officers they see using chokeholds, and to intervene in such cases. At the time, Mayor Frey vowed to help change the way the city's police department operates, saying "now we can finally get this right."
In July, the mayor and Police Chief Medaria Arradondo announced changes to the department's use of force reporting requirements that place a stronger emphasis on de-escalation.
The police agency is scheduled to see funding cuts after City Council voted in December to redirect $7.77 million from the police budget to other programs, according to a news release. The plan funds mental health programs, directs funding toward "increasing capacity within the Civil Rights Department's Office of Police Conduct Review to investigate complaints about police officer behavior," and redirects some nonemergency calls to other departments.
Meanwhile, Hennepin County District Court Judge Peter Cahill is considering a motion to postpone the trial after Mr. Chauvin's defense attorney, Eric Nelson, argued that the settlement has unfairly tainted the jury pool.
Outside of the courtroom, others argue that a potential juror could presume there's no need to convict Mr. Chauvin because the Floyd family has already received a large settlement.
Judge Cahill planned on Wednesday to re-interview the jurors who had been seated by that point to determine whether they could continue to serve.
Nine jurors had been seated through Tuesday, including five who are white; one who is multiracial; two who are Black; and one who is Hispanic. The jurors include six men and three women and range in age from their 20s to their 50s.
Opening statements in the trial are expected no sooner than March 29.
Three other former officers face an August trial in Mr. Floyd's death on charges of aiding and abetting second degree murder and manslaughter.