Environmentalist Dr. Charles K. Price dies at 82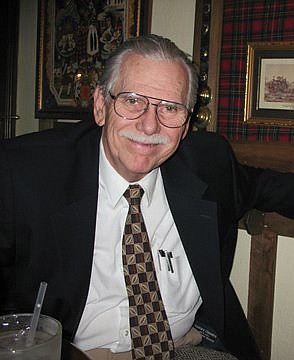 Dr. Charles Kemper Price, who led the effort to transform an ignored North Side area long used as a dumping ground into a walking and biking trail and spearheaded efforts to preserve natural areas in Richmond, has died.
Dr. Price, who had been battling illness, died Thursday, March 11, 2021. He was 82.
He is best known for the creation of the Cannon Creek Greenway, a 1.9-mile trail that runs along Richmond-Henrico Turnpike between Valley Road and Brookland Park Boulevard in a predominantly Black community.
"It wouldn't be here today if it weren't for him," said 6th District Richmond City Councilwoman Ellen F. Robertson, who celebrated Dr. Price and his work last October by placing an honorary street sign bearing his name on a stretch of the 10-foot-wide trail off Dove Street.
The trail largely runs by the creek and its steep ravine, which had become a favorite place for people to illegally throw tires, mattresses and other rubbish.
Ms. Robertson said that early in her tenure on City Council, she considered seeking to close the narrow road to stop the dumping. She said Dr. Price persuaded her to allow him to lead a community effort to restore and improve it as a green space.
He initiated volunteer cleanups with conservation and civic groups that ultimately pulled 20 tons of trash from the ravine and creek bed.
With city help, Dr. Price also gained the support of theArmy National Guard to clear the first stretch of the trail in 2012 as a summer training exercise for its engineers. With advocacy on council from Ms. Robertson and growing support within the city, Mayor Dwight C. Jones began earmarking city and federal funds to fully develop this link of the Capital Region Bike Trail.
A retired educator, Dr. Price also initiated the Cannon Creek Work/ Study Program with the Richmond City Justice Center and the Workforce Development Program with the city Department of Parks, Rec- reation and Community Facilities.
The two programs provide jail inmates and those released with employable groundskeeping skills, according to horticulturist Harris Wheeler and city employee John Harris, who both have been involved in maintaining the trail's landscape.
Born in Berryville in Northern Virginia, Dr. Price began a career in education after graduating from the University of Richmond. He later earned a master's degree from the College of William & Mary and a doctorate from the University of Virginia.
He began as a teacher in Portsmouth Public Schools, rose to school principal and then was tapped to be the first superintendent of the Virginia Rehabilitative School Authority, later the state Department of Correctional Education, which was charged with providing educational services for youths in state detention centers and adults in state prisons.
After retiring, conservation became his passion. He was active in the Sierra Club and served as chair of its Falls of the James Group in Richmond and as chair of the state chapter.
According to his family, Dr. Price overcame political obstruction, resistance and indifference in pursuit of his vision of green space conservation and environmental improvement.
Among his achievements, he is credited with pushing City Council into approving a conservation easement for the James River Park System to protect it from development in perpetuity.
He also led the Friends of Bandy Field for 23 years and successfully lobbied City Council to keep the land off Patterson Avenue in the far West End as a dog walker's paradise after the one-time school site was eyed for development. A bench bearing his name is now located in Bandy Field.
Before he died, he gained additional protection for Bandy Field by getting the council to authorize the Capital Region Land Conservancy to be a co-holder of the conservation easement now held by Friends of Bandy Field.
Dr. Price was named a Richmond History Maker in 2012 by The Valentine and the Capital Region Collaborative.
He is survived by his wife, Dr. Phyllis Price.