She's No. 1
STEM teacher Ashley Bland surprised as RPS Teacher of the Year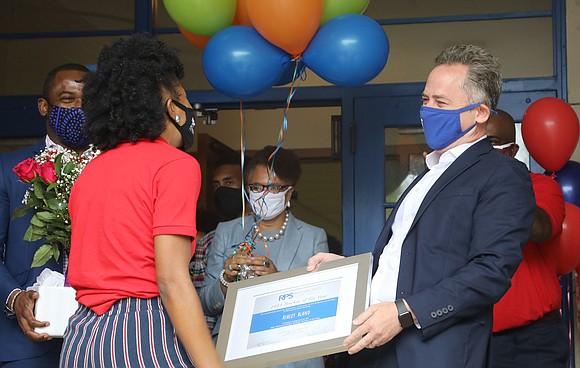 Friday was a festive day in Richmond's West End with the sounds of the 1965 hit "Dancing in the Street" by Martha and the Vandellas playing as news crews began setting up in front of John B. Cary Elementary School.
Unbeknownst to a petite woman rounding the front of the school, Richmond Mayor Levar M. Stoney, Richmond Schools Superintendent Jason Kamras and School Board members Stephanie M. Rizzi and Jonathan M. Young were about to present her with the school district's most coveted award — "Richmond Public Schools 2021 Teacher of the Year."
Ashley S. Bland was caught by off guard as Mr. Kamras presented her with the Teacher of the Year plaque and Mayor Stoney handed her a dozen roses. School Board members and an admiring crowd applauded with appreciation as news cameras rolled.
The award was the highlight of Teacher Appreciation Week celebrated throughout RPS.
"Ashley is an incredible teacher who works incredibly hard to make sure students of color are repre- sented in the science, technology, engineering and math or STEM fields," Mr. Kamras said, as he congratulated her. "She has been phenomenal during this virtual year, making sure teachers and students were successful."
"It's so unbelievable," Ms. Bland responded, shocked and excited by the surprise. "This is the best year to represent my colleagues, RPS and our entire year of virtual learning."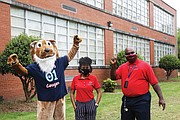 Ms. Bland, who has been teaching since 2015, is an instructional technology resource teacher working with students at three different schools, John B. Cary Elementary, Mary Scott Preschool and Binford Middle School. In that role, her charge is to contribute to the knowledge and skills needed to create a culture where technology enhances engagement, instruction and learning in unique and powerful ways.
At Cary Elementary, Ms. Bland has partnerships with different organizations, including Virginia Commonwealth University School of Engineering, to ensure that students are exposed to STEM careers.
"There is also an eco campus so students will discover and realize the science and math around them," Ms. Bland said. "It's exposure to the big life in the world."
Ms. Bland began her teaching career after completing the Richmond Teacher Residency program through Virginia Commonwealth University that prepares undergraduate students for careers in the classroom, as well as seasoned professionals looking for a career change.
Ms. Bland's first role in education was as a middle school math teacher.
"Ms. Bland is the type of role model the city wants for young people in the various STEM fields of science and technology," Mayor Stoney said following the ceremony.
"It is my hope and belief that Ms. Bland has inspired some young person to go down that STEM path. At the end of the day, it is all about producing the best and the brightest in the city of Richmond. That is what she is doing in her career at RPS."
Ms. Bland said she wants the community to know that she works with many dynamic educators and scholars doing many dynamic things.
"Richmond Public Schools is a tremendous place," she said. "I love being here."