Area parents eager to get children 5 to 11 vaccinated against COVID-19
George Copeland Jr. | 11/11/2021, 6 p.m.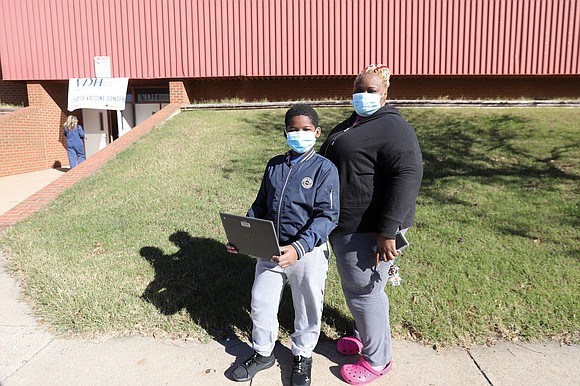 Richmond Raceway was a flurry of activity last Saturday morning as more than 100 children ages 5 to 11 were vaccinated for the first time against COVID-19.
The community vaccination center housed within the Old Dominion Building was one of several sites in Metro Richmond that began vaccinating youngsters with their parents' consent just days after the federal Centers for Disease Control and Prevention gave the green light.
The federal approval opened the doors to vaccine protection for 28 million youngsters across the nation and thousands in the Richmond area. Parents jumped to take advantage of the expanded eligibility immediately, which would give young children full immunity by the Christmas holidays if they follow the protocol of two doses of the Pfizer vaccine spaced three weeks apart.
The vaccine given to children ages 5 to 11 is one-third of the dosage given to teens and adults.
"It was great, from walking in to her getting her shot," Chinaye Minnicks of Henrico said of her 8-year-old daughter, Celeste, after they walked out of the raceway vaccination center on Saturday.
Ms. Minnicks said she was eager to get Celeste vaccinated to protect her and others from COVID-19. She said Celeste has autism and Ms. Minnicks' mother, who helps care for Celeste, is immunocompromised.
"I want her to be as safe as possible," Ms. Minnicks said.
On Monday, Shankita Holmes of Richmond took her son, Jayden, 9, to the Arthur Ashe Jr. Athletic Center on Arthur Ashe Boulevard for a vaccine.
The Ashe Center is replacing the Richmond Raceway as a community vaccination center. Monday was the first day it was open to give shots to people of all ages who are eligible.
Ms. Holmes, who works in nursing, said she has both shots, as well as her booster.
Jayden, a fourth-grader at Carver El- ementary School, had his laptop and was hooked into his class for virtual learning as he waited.
He was a bit nervous going into the building.
"I don't like needles and hope it's not one," he said.
His mother laughed, reminding him that a needle is involved.
When they left the building after his inoculation, Jayden was asked how everything went.
"I feel good," he responded.
He said he will tell his friends that he got his first shot and encourage them to have their parents make an appointment for them as well.
The mass vaccination events, led by the Richmond and Henrico Health Districts, are vaccinating about 100 children per day, six days a week. Health officials announced plans for additional upcoming vaccination events at times and places to make it convenient for parents to bring youngsters.
At the raceway, children were given pages to color to occupy them during the post-vaccine observation period. Special pods for privacy also had been set up.
Vaccine approval for 5- to 11-year olds comes as the state has seen a rise in COVID-19 cases, hospitalizations and deaths this year among the youngest populations.
"Regardless of whether they have an underlying medical condition, COVID-19 vaccines are a crucial tool that can protect children from these outcomes and they can also help them lead a more normal life," said Amy Popovich, nurse manager for the Richmond Health District.
While walk-up vaccinations and appointments will continue at the Ashe Center for those age 12 and older, parents and guardians are asked to schedule an appointment for children ages 5 to 11. Walk-ups will be accepted if there's availability, health officials said.
To make an appointment, go to vax.rchd.com or call (804) 205-3501.