Officials, volunteers revving up for return of Armstrong-Walker Classic this Saturday
George Copeland Jr. | 11/24/2021, 6 p.m.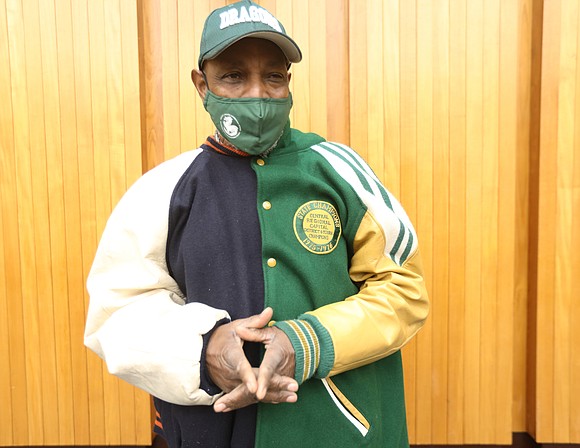 More than 40 years after the last official Armstrong-Walker Classic football game and parade, enthusiastic former teachers and alumni are working with city officials and community volunteers to ensure its successful return this Saturday, Nov. 27.
"We are so happy that we have an opportunity to make this occasion another legacy in the city of Richmond," said Howard Hopkins, interim activities director for Richmond Public Schools, who was a former coach and teacher at Maggie L. Walker High School and former principal at Armstrong High School.
Dressed in a jacket split between Armstrong's and Walker's colors, Mr. Hopkins was one of many speakers to share details of the new Armstrong-Walker Football Classic Legacy parade and game during a City Hall news conference Monday.
According to Mr. Hopkins, the revival of the classic that ended in 1978 has been aided in part by the contributions of Armstrong and Walker alumni and the work by various committees handling logistics.
"I have been getting calls daily," Mr. Hopkins said. "Some of my former athletes chipped in with money when they found out a financial issue was involved."
The parade will start at 10 a.m. Saturday, Nov. 27, at 4th and Leigh streets and make its way west on Leigh Street to Lombardy Street and the old Maggie L. Walker school building, which is now home to the Maggie L. Walker Governor's School. The parade then will head north on Lombardy Street to the Virginia Union University campus, where it will end at Admiral Street.
City officials stressed the parade and entire event would be safe and secure in the wake of concerns arising from Sunday's fatal incident at the Waukesha, Wis., Christmas parade, where a 39-year-old man drove his car through the parade, killing five and injuring 48 others. He has been taken into custody and charged with five counts of intentional homicide.
"We're a city of festivals. We're a city of increasing parades," Richmond Police Chief Gerald M. Smith said at the Monday news conference. "We believe that we have put a plan in place to respond to all known challenges as well as any unknown challenges that would come up."
Following the parade, a tailgate party will be held until 5 p.m. in the parking lot at VUU's Hovey Stadium, and two peewee football games will be held beginning at 2:30 p.m. at Willie Lanier Field at the stadium.
The entire event is focused on the schools' history and friendly competition and honoring the connection of both schools to each other and the community at large.
"This Saturday's parade will be just the first step toward recapturing some of that old glory that's still right here in the city of Richmond and renewing that community spirit that made it so special for an entire generation," Mayor Levar M. Stoney said.
"We're going to create a new stretch, a new streak, for another 40 years for a new generation of Richmonders," he said.