City voters will cast ballots for constitutional officers — commonwealth's attorney, sheriff and treasurer
Richmond Commonwealth's Attorney
Richmond Commonwealth's Attorney Colette W. McEachin is unopposed in her bid for re-election to a four-year term.
She won a decisive victory over a Democratic primary challenger in June. And with Republicans not fielding a candidate in the general election, Mrs. McEachin is assured a win on Nov. 2.
The 65-year-old attorney who earned her law degree from the University of Virginia School of Law served as Richmond's deputy common- wealth's attorney for 20 years. She won a special election in November 2019 to finish the term of her predecessor, former Commonwealth's Attorney Michael N. Herring, who stepped down and is now in private practice.
She is the first woman and the first African-American woman elected to the position.
Earlier this year, she created a new Community Justice Reform Unit to focus on what she calls the "three Rs: reform, restore and rehabilitate."
For the last year, she also has served on Mayor Levar M. Stoney's Task Force to Reimagine Public Safety in the wake of widespread demands for public safety reform after the murder of George Floyd in May 2020 at the hands of Minneapolis Police.
Mrs. McEachin plans to create more programs protecting and supporting crime victims; address the therapeutic needs of mental health and/or substance abuse issues; and reduce incarceration and recidivism.
She is the wife of 4th District Congressman A. Donald McEachin.
According to the Virginia Public Access Project's website, Mrs. McEachin's campaign has raised $89,889 from Jan. 1 to Sept. 30, and had $13,822 on hand as of Sept. 30.
Richmond Sheriff
Sheriff Antionette V. Irving, who has held office since January 2018, is running for re-election against Michael R. Dickinson.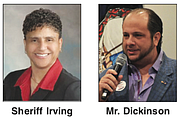 During her time in office, Sheriff Irving has focused on restorative justice and equipping residents of the Richmond City Justice Center with resources needed to prepare them for successful re-entry into society.
During the pandemic, she also tightly managed the jail's COVID-19 response, receiving praise from the Richmond Health District.
In June, she won a close Democratic primary race against a challenger who claimed her lack of leadership was contributing to deputies leaving the department, resulting in a staff shortage and creating unsafe conditions and morale in the jail.
She acknowledged a high number of vacancies at the time, saying they were due to the pandemic, retirements and higher pay available in neighboring jurisdictions.
Sheriff Irving earned a bachelor's degree in criminal justice from Shaw University; a master's in administration from Central Michigan University; and a Ph.D. in business administration with a concentration in criminal justice from North Central University.
Mr. Dickinson, the owner and chief executive officer of BlackCat Events, is a perennial candidate, having run in the past for Congress, Richmond City Council and the House of Delegates. In his most recent attempt, he ran as a Republican in the June primary for a House of Delegates seat and lost.
Since then, the Richmond Republican Party chairman filed a formal complaint with the Richmond commonwealth's attorney against Mr. Dickinson for allegedly submitting petitions to run for sheriff by asking registered voters for their signature for a candidate other than himself.
Mr. Dickinson has denied the allegations.
Mr. Dickinson earned a bachelor's degree in criminal justice in 2002 and a Ph.D. in public policy from Virginia Commonwealth University in 2007.
Richmond Treasurer
Richmond Treasurer Nichole Richardson Armstead, a Democrat, is facing a re-election challenge from longtime political outsider and independent candidate L. Shirley Harvey.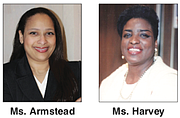 The two ran in a three-way contest in November 2017 for the office, with Ms. Armstead, a political newcomer at the time, securing victory.
During her tenure, Ms. Armstead, has sought to expand the role of the treasurer's office beyond the duties of collecting overdue state taxes, selling hunting and fishing licenses, paying city jurors, notarizing documents and helping people fill out tax forms.
Through the Financial Navigators service, her office has helped residents connect with local nonprofits providing rent assistance, food assistance and utilities. She has sought to help boost Richmonders' financial literacy, but some of the initiatives were put on hold because of the pandemic.
Ms. Armstead came to the job with a 19-year background in the banking industry, including experience in IT procurement, asset management and process improvement at the Federal Reserve Bank of Richmond.
The daughter of former City Councilman Henry W. "Chuck" Richardson, Ms. Armstead has a bachelor's degree from Virginia Commonwealth University.
Ms. Harvey served a term on City Council from 1994 to 1996. Since then, she has run for and lost elections for mayor, the House of Delegates and again for City Council. She also ran unsuccessfully for city treasurer in 2013 and again in 2017.
She has criticized the treasurer's post in the past, but also has said in previous contests that the General Assembly should give the office financial authority to serve as a check and balance on the city's Finance Department, which she described in overwhelmingly negative terms.