BlackTop youth program loses gym space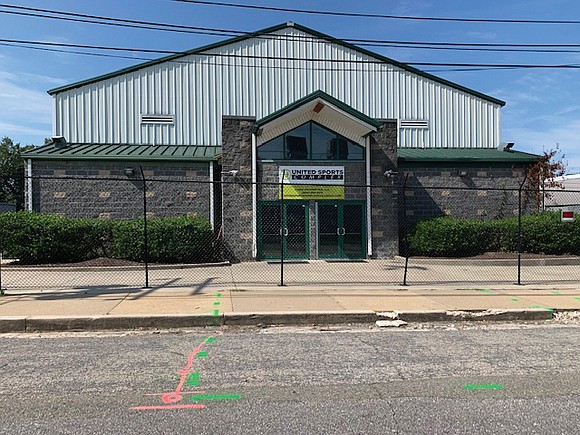 A private South Side youth program that won plaudits and a $500,000 city grant for its virtual school operation that served more than 80 students daily during the 2020-21 school year has been evicted from its home in a church gymnasium and is scrambling to find a new location for its operations.
The BlackTop Kings and Queens Youth Sports Academy and Virtual Learning Center lost its space Sept. 3 as it geared up to again provide virtual classes, according to Arthur E. "Manny" Harris Jr., the founder and director of the program.
For the past seven years, BlackTop has been based at 318 N. 19th St. in the gym on the campus of United Nations Church, which purchased the campus three years ago from the financially struggling Richmond Christian Center (RCC).
"We were set to open our virtual academy for the new year," said Mr. Harris, "but then we were closed down."
The church has confirmed that Mr. Harris no longer has permission to use the gym.
Bishop Orrin K. Pullings, founding pastor of United Nations, said that the decision to end Mr. Harris' use of the property capped three years of disputes between Mr. Harris and the church that began soon after United Nations moved in.
However, Bishop Pullings said the church plans to renovate the building and open its own community youth center in the space.
Meanwhile, Mr. Harris, who lost his bid Sept. 14 for a court order to temporarily reinstate his program, said he is now looking for a new location to resume the virtual school and after-school sports academy.
He said one option would be to use space at Franklin Military Academy.
The owner of an irrigation company, Mr. Harris in 2012 started the after-school sports program for low-income youths in honor of his late mother.
Two years later, he moved the program to the closed gym on the RCC property and has been there ever since.
He began the program to provide a low-cost option for child care through a weekday and weekend youth basketball program.
After the pandemic hit, he added the virtual academy to aid low-income children who were struggling to take classes via computer at home after the schools were closed. He said he did not charge parents for sending their children to the virtual school.
City Councilwoman Stephanie A. Lynch was among the cheerleaders for the program. She recommended BlackTop's virtual school to constituents in the 5th District who were struggling to home school their children.
The program was selected as a recipient of a city grant to support the virtual academy. The city allocated a share of the federal CARES Act funding to BlackTop and other community providers to expand child care and daytime educational services after Richmond Public Schools only agreed to allow nonprofits like the YMCA to offer virtual schooling to a few hundred children in five buildings.
Bishop Pullings said the church supported the youth programs but was concerned about Mr. Harris' repeated flouting of the rules, particularly regarding subleasing the space to others.
To help finance his youth operation, Mr. Harris said he staged a variety of affairs, including birthday parties, Latino basketball tournaments and other events and subleased the space to others.
However, Bishop Pullings said Mr. Harris often did not get the required church permission before subleasing. "He was warned over and over again," the bishop said. "We can't have just any type of event on church property. He needed permission from our board to sublease."
Matters came to a head in June after Mr. Harris confirmed that he allowed a promoter of a risqué affair, dubbed "Buns and Basketball." The ticketed event involved scantily clad women playing basketball.
Mr. Harris said he notified Ujima Properties, the firm that manages the church's leased space, of the event. However, Bishop Pullings said Ujima was not authorized to approve such a sublease. He said he and other church elders had to provide such approval. He said Mr. Harris did not seek such permission.
Bishop Pullings said he found out when he came to the campus the night of the affair with several family members and was confronted by an armed security guard who would not let him in until he called Richmond Police.
In the aftermath, Bishop Pullings said Mr. Harris was notified that the church planned to regain possession of the gym.
After Mr. Harris protested that his forced departure would disrupt his scheduled summer youth program, Bishop Pullings said Mr. Harris was allowed to continue to operate through August.
Mr. Harris was notified, though, that his program's use of the gym would terminate Sept. 3, according to a letter that was sent to him. Mr. Harris was on a month-to-month rental arrangement. The church only had to provide a 30-day notice to end the arrangement with him.
Bishop Pullings said the church went to Richmond General District Court in August to gain an order allowing enforcement of the deadline and then had the locks changed when Mr. Harris had not moved BlackTop's equipment and other belongings from the space.
Bishop Pullings said the church is more than willing to set up times and dates with Mr. Harris to recover BackTop's belongings.
The bishop said Mr. Harris, despite the disagreement, has shown the importance of youth programming in the gym.
"We have been considering what kind of youth programming we should offer," Bishop
Pullings said. "We have totally reimagined this space. Our plan is to create a place that would introduce young people to career drivers such as sports technology, engineering, arts and music. Our goal is to create a complete youth center that would offer more than basketball."